Gazprom and Shell agree global co-operation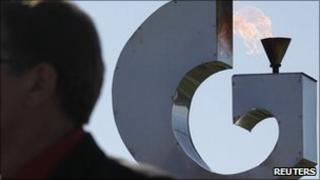 Russian gas monopoly Gazprom and Anglo-Dutch oil company Royal Dutch Shell have agreed to expand co-operation in Russia and in global energy markets.
Gazprom could now get access to Shell's projects in other countries.
The two firms also plan to deepen co-operation in oil and gas projects in Russia's West Siberia and Far East.
In 2006, Shell sold its controlling stake in the huge Sakhalin-2 oil and gas project to Gazprom, after coming under pressure from Russian officials.
The government's environment agency threatened to take legal action over alleged environmental shortcomings by Shell and its foreign partners.
As a result, Gazprom took 50% plus one share in the project, while Shell's stake was reduced to 27.5%.
But last year, at the height of the economic crisis, Russian Prime Minister Vladimir Putin invited Shell to participate in the Sakhalin-3 and Sakhalin-4 gas projects.
'Co-operation areas'
Peter Voser, Shell chief executive, said that the agreement signed between the two firms was evidence of the "close partnership relations that our companies have built up over recent years".
"Russia is an important area for new energy development for Shell and I expect it will play a big role in meeting the world's growing demand for oil and gas in the years ahead," he added.
The companies did not mention specific plans, saying only they were setting up working groups "for a detailed study of co-operation areas".
Gazprom head Alexey Miller said: "Looking ahead, we expect new large-scale contracts and growing joint presence in new markets."
Separately, German energy firm E.On has sold its 3.5% stake in Gazprom, the bulk of it having been bought by Russia's state-owned investment bank Vnesheconombank.
E.On said it would use the 3.4bn euros (£2.9bn; $4.5bn) it had raised from the deal to pay off some of its debt and finance expansion outside of Europe.