'Agreement in principle' reached in BBC pension dispute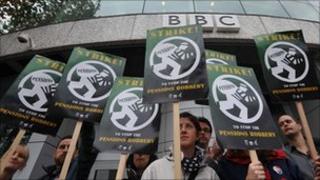 The BBC and journalists' unions have reached an agreement in principle to resolve a dispute over staff pensions.
The two sides met at conciliation service Acas and afterwards, in an internal e-mail, Director of BBC People Lucy Adams said a conclusion had been reached on one outstanding issue.
The National Union of Journalists said the agreement would be considered by staff representatives on Friday.
BBC staff held two days of strikes at the start of the month over the issue.
A second strike the following week was called off, but a work-to-rule was introduced.
The dispute stems from the BBC's plans to reduce a pensions deficit which the corporation says is £1.5bn by capping increases in pensionable pay at 1% from next April.
After the initial plan was rejected by the unions, the BBC revised its offer, agreeing, among other changes, that the career-average benefit pension - based on the average salary over an employee's entire career - would be revalued by up to 4% each year, rather than the previous offer of 2.5%.
Broadcasting union Bectu voted to accept the revised deal, but the NUJ, which has 4,100 members at the BBC, voted to reject it.
In her e-mail, head of personnel Ms Adams told staff: "We are pleased to say that discussions on behalf of the joint unions and the BBC reached a conclusion and an agreement in principle was signed by the joint unions on this final outstanding point.
"We now expect to move towards finalising our proposals and will keep you updated in the next few weeks."