US planning pay freeze for government workers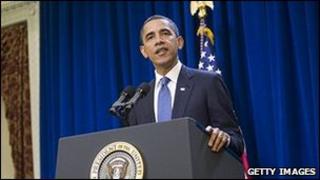 President Obama has proposed a two-year pay freeze for federal government workers as part of efforts to reduce the US budget deficit.
The White House estimates that the pay freeze would save about $2bn (£1.3bn) a year and up to $28bn over five years.
Taking this step would require the approval of Congress.
The US had a budget deficit of $1.3tn (£837bn) in the year to September, and critics have said the government should do more to narrow the gap.
Mr Obama and his Democratic Party have been criticised for being big spenders with their healthcare policy and economic stimulus measures.
Poor handling of the economy was seen as a key factor in the Democrats' poor performance in the recent mid-term elections.
Mr Obama said on Monday that both Republicans and Democrats faced a challenge "to get federal spending under control and bring down the deficits that have been growing for most of the last decade".
The president's announcement comes before a Wednesday deadline for the bi-partisan national Deficit Commission to agree on ways to cut the national debt.
On Tuesday, President Obama is meeting leaders of both parties to discuss whether to extend tax cuts that were introduced under the Bush presidency.
Republicans are calling for tax cuts to be extended across the board, including households with incomes above $250,000 (£161,000), while Mr Obama insists the cuts should just be for those in lower tax brackets.