Eurozone unemployment rate at 12-year high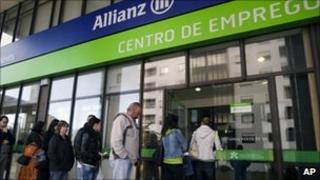 The eurozone's unemployment rate hit 10.1% in October as jobless rates rose in Italy, inched down in France and Germany, and remained stable in Spain.
The rate was the highest since July 1998, said EU agency Eurostat.
The number of people without a job rose by 80,000 in October to 15.95 million people, and by 84,000 people to 23.15 million in the 27-state European Union.
Separate figures showed that inflation in the 16-nation eurozone remained unchanged at 1.9% in November.
In the medium term, the European Central Bank wants to keep inflation below, but close to, 2%.
With inflation close to this target figure, analysts expect the bank to keep its main interest rate at 1%.
"The ECB is likely to be quite pleased to see eurozone consumer price inflation stabilising at 1.9% in November," said economist Howard Archer at Global Insight.
"Although this is the highest level for two years, it is bang in line with the ECB's target level and there continues to be little evidence of any significant pick up in underlying price pressures."
The rise in the eurozone unemployment rate was mainly due to an increase in the jobless rate in Italy, the bloc's third-biggest economy, to 8.6% from 8.3%.
The second biggest economy, France, saw its jobless rate edge down to 9.8% from 9.9%.
Spain's unemployment rate, where the global economic crisis has taken a big toll on jobs, remained unchanged at 20.7%.
Earlier, Germany had published separate figures showing its unemployment data for November.
It said the jobless total had fallen by 14,000 to 2.931 million, from 2.945 million in October - which was the first time the total had been below three million for two years.
Germany suffered its worst post-war recession in 2009, with output contracting almost 5%.
However, Europe's biggest economy has seen a strong recovery this year thanks to strong demand for its exports.
"The labour market is profiting from good economic conditions," said German labour office head Frank-Juergen Weise in a statement.
"Unemployment is falling, employment... is rising and demand for workers is increasing."
A government scheme that encouraged firms to shift employees to part-time work rather than lay them off has helped to keep unemployment down.