Japan: Debt, demographics and deflation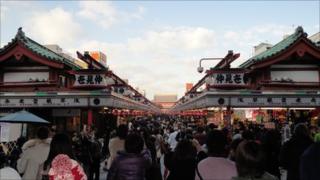 Japan's woes can be summed up with three Ds - debt, demographics, and deflation.
They are not new phenomena but they have combined in a toxic mix which poses threats to the health of one of the world's economic powerhouses.
Japan's government debt is soaring far above that of other leading industrialised nations.
Gross debt is approaching 200% of annual economic output, way above the US, the UK and Germany where the ratios are all below 100%.
So at a time when the Republic of Ireland, Greece and Portugal are being punished by the financial markets because of their high public borrowing levels, how can Japan afford to borrow so much?
The answer and the challenge lies in the country's demographics.
Traditionally the Government has no trouble selling its debt to domestic investors.
Risk-averse small savers, pension funds and institutions are content to hold Japanese government bonds (known as JGBs).
About 90% of the outstanding stock of debt is held by these local investors. So the government has not had to worry about foreign market perceptions of the mountainous debt burden.
Ageing population
But could that start to change within the next few years?
The Japanese population is shrinking, from a peak of 125 million a few years ago to about 100 million by 2050, according to the latest predictions.
At the same time, the proportion of people over the age of 65 is set to rise to nearly 40% by the middle of this century. During that time pension and care costs will continue to rise.
Mizuho Research Institute estimates that by the year 2025 around 70% of government spending will be eaten up by debt service and social security spending.
Yasuo Yamamoto, senior economist at the Institute, believes "this is a very difficult situation - but the sense of crisis is not shared across all sections of society".
The sense that Japan is close to a tipping point is voiced by leading academics and some politicians even if not by the wider population.
Akira Kojima, senior fellow at the Japan Centre for Economic Research put it like this: "We are now at a watershed period - it's a moment of big decision.
"We are going into very dangerous territory. Post war baby boomers are retiring. We have less than 10 years left to fix the imbalance problem."
The Sato family enjoy meals together as often as they can. The parents are retired.
Their daughter, in her twenties, has a good job with a management consultancy.
But they are all concerned about the decades ahead and who will pay for their care when it is needed.
Akihiro Sato, a retired pilot, says: "Our future is very severe. I have many things to worry about - especially pensions."
A declining population with a higher proportion of people in retirement will pose questions for Japanese government finances. Will there be enough savers to fund the annual deficits?
"As the population ages, the household savings rate will turn increasingly negative as pensioners spend the savings they have built up," Grant Lewis, head of economic research at Daiwa Capital Markets Europe concludes.
"A JGB market that is not able to rely on the steady domestic saving inflows that it has in the past, is likely to be much more volatile than that seen over recent years."
Downward price spiral
Then there's the long-established disease of deflation.
Japan has endured steadily falling prices for most of the last decade (that is consumer prices minus food and energy).
There is a sense that Japan is trapped in a deflationary mindset. Companies are under constant pressure to reduce prices so they do not build up the cash reserves to fund investment.
There is every incentive to pay down debt rather than take risks with commercial expansion.
Japan first tried the policy of creating new money, known as Quantitative Easing (QE), in 2000.
There were mixed results and critics argued it was too little too late.
The US and UK central banks saw Japan as a case study of what can happen when deflation becomes deep-rooted.
They launched ambitious Quantitative Easing programmes, hoping to avoid mistakes made in Japan.
But Richard Koo, chief economist of Nomura Research Institute, has a warning for Washington and London.
He believes both could be heading down the Japanese deflation road, even with the administration of major doses of QE.
"All those talks in the US and UK about fiscal stimulus, now consolidation, QE, zero interest rates - we went through in Japan 15 years ago.
"For those of us in Japan what's happened in the UK and US are like the replay of what we went through, with the same level of confusion among the policymakers.
"We had no idea that this was a different disease, not in the text books."
As if Japanese businesses did not have enough to worry about, there's the problem of the strong yen.
Exporters are struggling and some are moving production offshore because of the currency issue.
But smaller businesses cannot do that and are seeing profit margins on their export sales hit hard.
"We will get the people together to re-think the new strategy. That is our way to survive," says Hideyuki Amamiya, president of a third generation family company, Atago, which provides high-tech testing equipment to the food industry.
But when asked whether he will lay off staff, he shakes his head.
That would be unthinkable, such is his loyalty to the workforce.
Employment opportunities
So what is the way out?
Ministers and academics in Japan rest their hopes in a growth strategy which will aim to capitalise on the changing demographics.
Care of the elderly offers job opportunities, as does child care for women encouraged back into the workforce.
Green technology is seen as another potential wealth and employment creator.
On the streets of Tokyo, shoppers seem content enough.
Some might feel that falling prices is not too harsh an economic burden to bear. Japan's low crime rate suggests a better quality of life than in many other countries. Health provision, one reason for longer lifespans, is highly regarded.
But there is a growing sense that Japan's problems - debt, deflation and demographics - must be confronted by policymakers and voters and not ignored for too much longer.