Lukoil profits rise on higher oil prices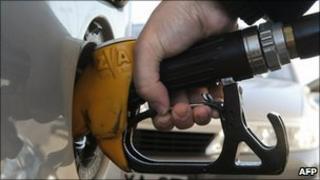 Lukoil, Russia's biggest private oil firm, has reported a jump in quarterly profit due to higher global oil prices.
Its net profit increased by 37% to $2.82bn (£1.82bn) in the July-September period in comparison with the same quarter a year ago.
The company said that crude oil sales had risen by 21% in the quarter to $26.5bn.
The news pushed Lukoil's share price higher as the company's results exceeded analysts' forecasts.
The average price of crude oil rose to about $76 a barrel in the July-September period, up 12% from the same quarter last year.
Share purchase
Lukoil's profit rise came despite the Russian firm buying back its shares from US oil company ConocoPhillips.
Lukoil has spent about $4.4bn this year on buying back much of the US firm's stake in the Russian company.
ConocoPhillips still holds a 7.4% stake in Lukoil, although this is down from its previous holding of 20%.
Lukoil said that its quarterly results had been also boosted by a $438m one-off gain "from a successful completion of the legal dispute regarding one of our joint ventures in Kazakhstan".
"At the same time, our results were affected by increased extraction taxes and export tariff rates, appreciation of the Russian rouble and increase in operating and transportation expenses," the company said.