Pricey items 'in demand in London's West End'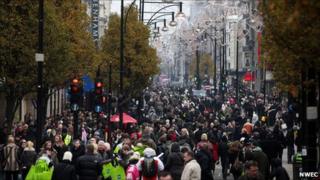 Fewer people shopped in London's West End last weekend than a year ago, but big ticket items were in demand as streets were closed to traffic on Saturday, figures have indicated.
Consumers spent over £250m ($390m) during the weekend, according to estimates by New West End Company, the event organisers.
The average transaction size was £200, compared with £120 a year ago.
More than 100 stores participated in the event, named Shop West End VIP Day.
Hundreds of buses were re-routed on Saturday to clear popular shopping streets Oxford Street and Regent Street for customers and entertainers for several hours.
Christmas hopes
"Many stores have reported over a 10% rise in sales of big ticket items this weekend," said Richard Dickinson, head of New West End Company.
"High definition and 3D televisions have been the most popular item and must-have gadgets such as 4G phones have been flying off the shelves."
Scott Abrahams at Merchant Services for American Express said that: "Data from our Business Insights team shows strong growth in retail.
"If these trends continue we can expect a strong Christmas."
Money raised by entertainers and fundraisers on the two streets will also be going to the Starlight Children's Foundation charity, which grants the wishes of seriously ill children.