Credit card write-offs fall, says Bank of England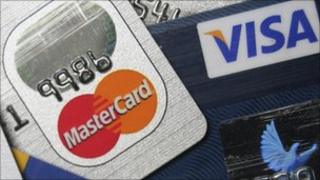 The amount of money written off by banks on credit cards fell sharply in the third quarter of the year, Bank of England figures show.
A total of £740m was written off, the lowest figure since the first quarter of 2008.
This is 35% of the £2.1bn record write-off in the second quarter of 2010.
The fall may be due to an improvement in people's finances, reflected by a drop in personal insolvencies and home repossessions this year.
But David Black at the financial consultancy Defaqto suggested it reflected the impact of more restrictive lending.
"It looks as if banks are benefiting from their decision a few years ago to be more careful about who they lend to, especially with unsecured lending," he said.
Back to trend
Banks regularly write off large amounts of the money spent on their credit cards when it becomes clear that the card holders will not repay.
The sums cancelled have at times amounted to 10% of all the outstanding lending on the cards.
These high losses explain why banks and other lenders charge much higher rates of interest on their cards than they do for secured forms of lending such as mortgages.
Write-offs on mortgages, while much lower than on credit cards, also fell, from £184m in the second quarter of 2010 to £134m in the third quarter.
Taking into account other forms of lending, such as bank loans, all bank write-offs fell in the same period, from a record £3.5bn to £1.8bn.
"Changes in some banks' accounting practice during the first half of the year resulted in larger numbers for the first two quarters, however third quarter figures have moved back into line with the previous trend," said David Dooks, director of statistics at the British Bankers' Association.