Internet shoppers warned about electrical goods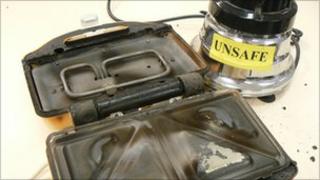 Consumers buying electrical goods on the internet in the run-up to Christmas are being warned that many of them can cause serious injuries.
An industry safety body says as many as one in ten items bought online can result in a fire.
Shoppers are being advised to take particular care when buying goods from outside the European Union, as they are often not designed to be used in Europe.
"Faulty electrical products can cause electric shock, " says Kevin Sweeney, who works for a testing laboratory.
"And of course, electric shock can kill people."
No fuse
At the Intertek labs in Leatherhead in Surrey there is a collection of "horrors" to underline his point.
One is the charred remains of a sandwich-maker.
On the bottom it is marked with the name of a reputable brand, and it even has the CE safety mark.
But it turns out it contained no thermal fuse, so when it was left on it just got hotter and hotter, until it burst into flames.
The markings on the bottom were just a forgery.
'Very dangerous'
Tim Lockwood, from Lowestoft in Suffolk, ordered a simple laptop charger earlier this year from a website based in Hong Kong.
What arrived in the post was, by Tim's reckoning, "very dangerous indeed".
The plug fitted well into a UK 13-amp socket, but it had no fuse in it.
By chance Tim happens to be an electrician, so he immediately noticed the fault, which constituted a fire risk.
"I was absolutely amazed," he said.
"I couldn't believe that such a thing would be sent to the UK for use in our system."
Unsurprisingly, many such electrical items sold into Europe do not meet European safety standards.
Next time Tim says he will make sure he gets one from a UK site.
But determining which sites are based in the UK is not always a simple process.
The suffix ".co.uk" is no guide, as anyone in any country can register a domain name with that particular ending.
Advice
At the Electrical Safety Council (ESC) they are advising shoppers to carry out particular checks if a website is based outside the European Union.
"There's nothing wrong with buying products from overseas," says Phil Buckle from the Council.
"But people must satisfy themselves they're not putting themselves or their families in danger."
However the ESC's own statistics suggest that websites outside the EU are only slightly more culpable than ones based in Europe.
In a sample of 2,000 internet shoppers, nearly 8% reported buying an electrical item from an EU site, and subsequently having a fire.
The figure for non-EU websites was 12%.
But the figures assume that people knew where the website they were buying from was based.
Finding an address for a website is one of the few precautions that consumers can take.
That way, faulty goods can be returned.
Certainly the CE safety mark provides little reliable evidence that goods are fit for purpose.
This mark is obligatory for all EU manufacturers, and only signifies a claim by the maker that the item complies with European standards.
Third-party testers provide much more reliable marks, but there is a huge number of them, and like the CE mark, they can be easily counterfeited.
Warning
As a result, consumers are being warned to be particularly careful as they surf the internet in the run-up to Christmas.
One particular feature of internet shopping is that consumers are driven by low prices.
And that is exactly the danger.
"Don't be tempted to buy from a cheap online deal," says Kevin Sweeney of Intertek.
"You should know the source, and the brand," he advises.
But how many people, under pressure to get the shopping done, will be prepared to pay a little extra, and to locate the website's country of origin?