Volkswagen's multi-brand growth creates complex challenges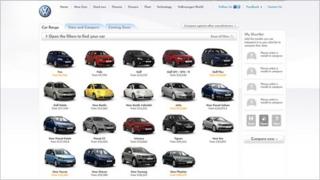 On a drizzly winter morning at a rural hotel in the South of England, a small group of motoring journalists sip coffees and munch bacon butties, getting ready for test drives around the Sussex country lanes.
To old hands in the game, it is just another car launch.
Except this time it is different.
Unlike most other launches, which tend to focus on just one model, the German automotive giant Volkswagen has decided to show off three of its new cars at one event.
"Three for the price of one," quips Paul Buckett, head of Volkswagen's PR team in the UK. "These are austere times."
Bewildering range
It is true, of course, that Volkswagen, like other companies, is having to keep a keen eye on costs.
But that is not the only, perhaps not even the main, reason why it has chosen a multi-model launch for its new Sharan, Touran and Touareg models.
Instead, the key reason is its ballooning range of models.
In addition to the three models at the launch, the Volkswagen marque sells the Fox, the Polo, the Golf, the Beetle, the Jetta, the Passat, the Scirocco, the Tiguan, the Eos and the Phaeton.
In addition, there are different versions of each of these models, such as coupes or cabriolets, and regional variations, as well as a string of pick-up trucks, campervans, commercial vans and minibuses.
The marque's range is, quite frankly, bewildering.
"With all the derivatives, we have a portfolio of about 150 vehicles worldwide," says Volkswagen's head of design, Klaus Bischoff.
"At the moment, we are working on another 40 projects."
'Sales cannibalisation'
Out on the open road, behind the wheel of a small 4x4 Touareg, it is tempting to speculate on which cars might be its rivals; cars that do roughly the same and that look similar.
For example, could it compete with sister brands, such as the Audi Q5 or the bigger Q7? Would a Skoda Yeti be a credible rival? Might some buyers go for a Porsche Cayenne instead?
Well, not quite.
Although they, too, carry five passengers, and although they are also so-called crossover vehicles, they target different buyers.
It is all due to the way Volkswagen Group strictly controls its complex array of marques, ranging from sportscars to budget cars to luxury cars to trucks.
The various subsidiaries have been given overarching orders by Volkswagen Group's head of design, Walter de'Silva, not to step on each other's toes.
But at times, overlaps seem unavoidable - given that the group owns truckmaker Scania, ultra-luxury car company Bentley, supercar makers Bugatti and Lamborghini, budget car brand Skoda, sporty car marque Seat and upmarket brand Audi.
Hence, a well-specced Volkswagen's Golf, for instance, could easily be seen as a substitute for an Audi A3.
A Skoda Superb is exactly that, with top-of-the-range models being superbly opulent, and it may be a more attractive proposition than a less well-specced Volkswagen Passat.
Volkswagen's Phaeton is occasionally described as a considerably less prestigious version of the Bentley Continental. And so on.
"There are already signs that VW's management is concerned about the overlap between some brands and resultant 'sales cannibalisation'," observes Tim Urquhart, IHS Automotive analyst.
"It is this task - of managing this increasingly diverse brand portfolio to maximise synergies and efficiencies while ensuring that the brands remain separate and distinct - that is perhaps the biggest challenge the company faces."
Further acquisitions?
That task is about to become even more difficult as Volkswagen Group prepares to finalise a reverse take-over of Porsche - and as it has acquired a stake in Suzuki that should help it bolster sales in India's booming car market.
In the vast and fast-growing Chinese market, where Volkswagen Group is the leader through its joint ventures with Shanghai Automotive Industry Corporation (SAIC) and First Automotive Works (FAW), further models are added still.
In Europe, rumours are rife about further acquisitions of rival carmakers, with both Ferrari and Alfa Romeo named as potential targets should their current owner Fiat decide to sell.
Meanwhile in the US, Volkswagen is building a $1bn (£640m) factory that will produce cars designed especially for the American market.
The Volkswagen Group's structure is thus much more complex and vastly different from that of the world's largest carmaker, Toyota, which VW is hoping to overtake by 2018.
Indeed, with its ambitiously expanding marque and model strategy, the German carmaker is increasingly the odd one out in the industry.
By comparison, its US rivals General Motors and Ford are shedding marques to focus on their core brands.
Volkswagen, meanwhile, is getting ready to add further strings to its bow, even though each string adds to its complexity.
"With the company mulling further acquisitions, it must work to ensure that senior management focus does not become too diluted or that the brand structure becomes too complex," observes Mr Urquhart.
Maturing brands
To Mr Bischoff, the way to do this is to develop "formal design languages that suits each brand".
"As head of the Volkswagen brand's design, I also need to make statements about its territory," he says.
"The most important thing is to be self-confident and do what is right for the brand. Don't look at what the others are doing and don't copy."
He is also keen to make sure Volkswagen continues to develop its design language.
"When you do something unique, people start copying you and then you have to reinvent yourself," he says.
Such an evolutionary approach makes it more difficult for group design head Mr de'Silva to ensure a level of familiarity between different marques, while at the same time ensuring each is distinct from the others.
"He has to develop the whole kindergarten," smiles Mr Bischoff, "but all the brands must be allowed to grow up and mature."
Volkswagen's ability to do this right is aided by the sheer size of the group, which improves the economies of scale.
"In the end, it's not so complicated," says Mr Bischoff. "You should see how many rear axles or gear boxes we build.
"We also have have shared platform modules that are all the same. This gives our engineers and designers the possibility to create cars that are more specific.
"The cost of the technical components fall and you can put more into the body and the interior - and this is where we build brand value."