US shoppers hunt for bargains on Black Friday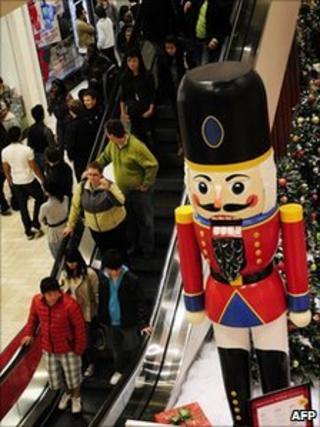 Millions of Americans have been heading to the shops on Black Friday, a crucial event for US retailers.
Many stores opened their doors overnight, hoping to entice customers with cut-price bargains.
Black Friday - the day after the Thanksgiving public holiday - is traditionally the start of the Christmas shopping season.
Consumers are spending in an uncertain environment as fears about the health of the US economy persist.
Thousands of people queued late on Thursday evening in the hope of being the first to find a bargain, with many shops offering deep discounts on clothing, electronic goods and toys.
Several chains opened even earlier than the typical midnight start. Children's retailer Toys R Us threw open its doors at 2200 on Thursday for the first time. Others stayed open after trading on Thanksgiving itself.
"Judging from the excitement at Toys R Us at 10pm [on Thursday] and throughout the evening, the shopper is back," Toys R Us chief executive Jerry Storch told Reuters.
Department store Macy's said it had 7,000 shoppers outside its flagship Herald Square store in Manhattan in the early hours of Friday morning, some 2,000 more than last year.
Despite continued concerns over the US economy and a stubbornly high unemployment rate of 9.6%, analysts are predicting a better holiday season than last year.
The National Retail Federation says it expects sales to be 2.3% higher than 2009, totalling $447m (£285m). That could bode well for the US economy, with consumer spending making up about 70% of total economic output.
"This is shaping up to be one of the biggest Black Fridays we've seen," said David Bassuk, managing director at consulting firm Alix Partners.
Black Friday is so named because it is the day of the year when retailers traditionally hope to leave the "red" and enter the "black", breaking even or making a profit.