Time Out publisher sells 50% stake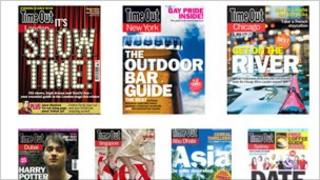 Travel guide and listings magazine publisher Time Out is selling a 50% stake in the business to help fund its digital expansion.
Time Out's owner Tony Elliott has signed the deal with private equity group Oakley Capital Investments. It is said to value the firm at £20m.
Mr Elliot said it would allow Time Out to expand its online travel guides.
He is also reported to be using some of the cash to reduce Time Out's debts. Oakley is to offer strategic support.
Oakley's founder, Peter Dubens, said: "It is very rare to be able to help with such a renowned, iconic brand as Time Out.
"We believe that we will help this brand, both in its traditional media and the continued transition to digital over the coming years."
Time Out's weekly listings magazine has 36 versions around the world.
The company also produces 22 travel magazines, and guides to about 50 global cities.