Retail sales higher in November says CBI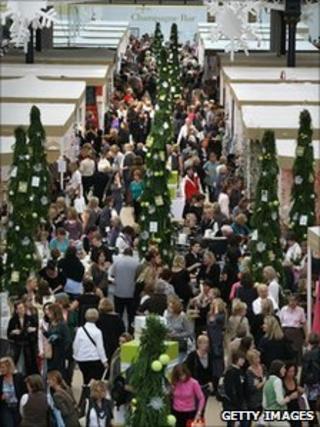 Retail sales rose in November, according to a survey, but retailers are concerned about the 2011 outlook.
The share of companies reporting better business rose to 43% this month, up from 36% in October, the CBI business organisation's monthly poll of distributive trades found.
The figure is 10 points higher than analysts expected, but below the 49% recorded in September, a six-year high.
But only 11% expected sales to improve next year, down from 22% in October.
Grocers and clothes retailers reported the best trading conditions, according to the CBI survey.
Expectations for the crucial Christmas sales period also improved slightly.
The CBI said one factor weighing on expectations for the new year is the VAT rise from 17.5% to 20%, which becomes effective from 1 January.
Economists believe this will cause consumers to bring purchases forward to beat the tax rise, buoying sales in the Christmas period, but depressing them in the new year.
"Looking into the new year, retail sales growth may lose some of its sparkle, as consumers rein in spending after Christmas," said Ian McCafferty, chief economic advisor to the CBI.
"Confidence remains fragile, VAT is rising in January, and a combination of weak wage growth and high inflation is eating into household incomes."