South African World Cup lessons for Brazil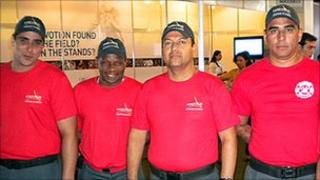 The man who successfully ran this summer's World Cup in South Africa believes Brazil can learn from his country's experiences, both good and bad.
Danny Jordaan spent 16 years working on South Africa's hosting of the global football event - first leading the unsuccessful bid to host 2006, then leading the successful 2010 hosting bid and finally as chief executive of his country's organising committee.
"The thing I would tell Brazil is to have the legal framework in place - the national laws, city regulations, also sort out roles and responsibilities, who does what," he says, speaking at the Soccerex football finance seminar.
With violence in Rio hogging the front pages of Brazilian newspapers over the past couple of days, security is obviously an issue that has come to the fore.
"Security is very important, but it is also a complex issue," Mr Jordaan adds.
"There must be a single security plan and one national command and control."
That he says, can be a tricky issue where, as in his country, there were also regional and city commanders.
In a Brazilian city like Rio there is also much overlay with the tourist police, civil police, military police, the UPP (or "police pacification unit" for tackling favela crime) and the army.
"Fans follow their teams from cities to cities, so there must be one single security plan that covers all stadiums," says Mr Jordaan.
Crucial infrastructure
Power and water, he says, are other issues. That includes sorting out early on who provides power and water for the stadiums, and other World Cup-related facilities, as often city authorities do not feel it is their responsibility.
"As well as the stadiums, temporary structures such as accreditation and media centres also need power," says Mr Jordaan. "So who is responsible is an issue."
He also says that unless World Cup-related projects get on track early and stayed on schedule, they could find themselves liable to have to make last-minute "accelerations" to plans.
And that, he says, can add 10% to 20% to the cost of projects.
"Brazil will face questions about its stadiums, its hotels, 'will it all be ready on time?', and questions about crime. I faced these questions for 16 years," says Mr Jordaan, who admits to having felt totally drained of energy when the final whistle went in the World Cup final.
But he believes that "in the end the media accepted, and we insisted, that we would host the best World Cup ever".
And he says that successfully hosting the World Cup can bring Brazil up to a different international standing and have post-tournament benefits such as increased tourism.
"The World Cup must link to an increase in tourism," says former anti-apartheid campaigner Mr Jordaan.
"Before the World Cup, we got 300 Mexican visitors a year - this year there were 50,000."
And he says that Spanish football fans overcome by their nation's victory in the final are now making pilgrimages to Soccer City stadium in Johannesburg where they lifted the trophy.
"They come just to sit in the stadium and be in the city where they finally won the World Cup after years of going out in the first or second rounds."
Stadium headaches
However, it has not all been so rosy on the stadium front in different parts of the country, with international media reports that venues in Nelspruit and Cape Town, for example, are being under-used post-World Cup.
"We have two or three problems around stadia, but we are not going to demolish them though. All are owned by the cities, but cities are not entities that that I think can run the stadiums properly," observes Mr Jordaan.
"So we have to move them on to a sports marketing company or to a [football] club."
He said in Brazil, this latter option might be possible, but was not proving to be the case in South Africa.
"We are looking at a partnership between different sports, having more than one sport in the stadium, such as rugby and football."
He also wants to see stadiums used more on non-matchdays, such as is the case with Real Madrid's Bernabau stadium.
"We need to capture fans when there is not a match," says Mr Jordaan.
"The Maracana [in Rio] must be one of the best football stadiums in the world, but it is a place where you would want to see a museum and restaurants, to spend a day there - maybe have conference facilities too."
He warned the Brazilian 2014 organising committee that problems will become more intense as the hosting project moved forward.
And Mr Jordaan cautioned against falling into a trap of "too much talk", or hosting pointless meetings where nothing is achieved.
Inclusive approach
The 59-year-old also pointed out that bigger host cities would have more expertise, so it would be important to bring the other host cities up to their level, and close the knowledge and skills gaps.
There will also be a need to placate those cities which have applied to host World Cup games and then were dropped from the final hosting roster.
This could be done by encouraging World Cup teams to stay in such cities. Kimberley, for instance, was dropped from the hosting list in South Africa, but managed to get the Uruguayan squad to base itself there.
Other options can be hosting World Cup events in these cities, such as countdown parties when there are 500, 100 or 50 days to go.
"And we made sure to always invite them to host city meetings. Also we played some national team games in some of these cities which were dropped."
At present, Mr Jordaan is part of the Fifa inspection team examining facilities in the countries bidding to host the 2018 and 2022 World Cup finals, with the decision set to be announced on 2 December.
"I would like to continue to stay in football, see if I can serve as a member of [African Confederation] CAF or Fifa, but it is for others to decide," he says.
"I think I can make a contribution to world football."
But for now, he is full of encouragement for Brazil as it aims to host a successful World Cup in 12 host cities in 2014, as well as staging the 2016 Olympics.
"Brazil at the moment must be the envy of the world, hosting both events," he says.