Three questions: Graham Tricker, Hypertag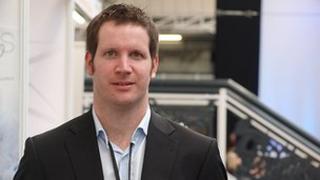 Each week we'll be asking three questions of chief technology officers and other high-profile decision-makers. Answering today is Graham Tricker, chief technology officer of mobile phone proximity marketing company Hypertag.
What's your biggest technology problem right now?
Finding cost effective hardware. We're a software and services company so we're all about delivering proximity marketing solutions to brands, agencies and retail organisations, but we have to run our software service on a hardware platform which we buy in from third parties.
We've actually architected our systems so we're platform agnostic, but it's actually finding suitable hardware platforms at the right cost and feature points to deliver what the customers require at a cost they can afford.
That's one of our big challenges so we're working with a number of suppliers, but we're out now looking for other hardware platforms, possibly looking to the Chinese market to see what suitable platforms there are out there.
What's the next big tech thing in your industry?
The biggest thing for us is wi-fi, because we're all about delivering content to people's devices at a location.
When the company started out in 2001 we were using infrared technology because that was on mobile devices. In 2005 we moved onto bluetooth, and now, by the end of this year, we'll be releasing wi-fi capability on our products.
That allows us to distribute content to the new generation of smartphones - your iPhones, your android phones and so forth.
What's the biggest technology mistake you ever made - either at work or in your own life?
Probably trying to develop too far on a legacy system, and thinking we needed to cram more features into the product. Trying to iterate too far on the current platform, when really you're far better off stepping back and maybe taking stock and actually thinking should we start afresh, which actually we did back in 2008 with funding from the Technology Strategy Board.
It gave us the opportunity to step back from the development process in place since the company began. During that time we covered a lot of market requirements. It gave us the breathing space to go away and re-architect our platform from scratch.