Brazil aims to cut back on player exports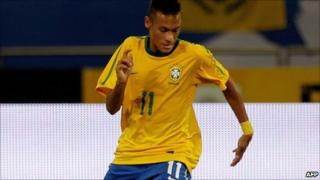 Football clubs in Brazil and other South American nations have traditionally sold their best players to Europe and other parts of the world in order to balance their books.
But now many believe the trend is changing in Brazil, with clubs seeking to run themselves better and not be forced to cash in on their best assets every year.
Clubs in neighbouring, and traditional football rival, Argentina are watching developments with interest to see if they can find ways not to find their top stars.
Esteve Calzada is chief executive of sport marketing firm Prime Time Sport, which has carried out research into recent player sales from Brazil.
He found that the number of players who left Brazil in 2009 was down by 14%, while the total value of player exports was down by 25% to $177m (£112m).
With the European market being less and less strong to buy players from Brazil, "domestic club football has a great opportunity to develop and consolidate a new football model based on a revamped value and strength of the Brazilian championship, ahead of the upcoming 2014 World Cup", says Mr Calzada.
"The Brazilian market is no longer as much of an export market as it has been in the past."
Purchasing power
Having stronger financial books also allowed Brazilian clubs to bring back Brazilian stars such as Roberto Carlos, Deco, Cicinho and Belleti.
"We have started repatriating players and the Brazilian football market is no longer only an exporter," says Jose Hawilla, president of Traffic Sports Marketing, an agency which brokers the sale of players from Brazil.
"In the past two years, this export market has changed because of the increased purchasing power of Brazilian football.
"It means Brazil no longer has to sell star players at the prime of their career. Most of those who will leave now are low-cost, low-impact players."
New revenue sources
Examples of players in the prime of their career brought back to Brazil in 2010, often on loan, have included Vagner Love's loan period with Flamango, and Robinho with Santos.
At the same time a Brazilian club such as Santos have also been able to rebuff an approach from Chelsea this summer for their 18-year star Neymar by offering him a hugely improved contract.
Chelsea were prepared to pay £25m and offer the 18-year-old a five-year contract worth £55,000 a week. But Santos offered him £40,000 a week by doing an image rights deal with sponsors.
"We were able to convince him that it was everyone's best interest if he stayed with us and matured as a player and a person," says Santos president Luis Alvaro.
"Then, when he does want to move, he will find it easier to settle elsewhere and his commercial value will also have risen, which will be got for his pocket and for Santos's funds.
Brazilian clubs are also starting to look at ways of generating new sources of revenue so that they do not have to sell, Mr Alvaro says.
Strong base
However, of those who do leave, 75% of players still go to Europe, while a large chunk of the remainder go to play in various Asian leagues.
Within Europe, the main destination remains Portugal, with its strong historic and linguistic links with Brazil.
"Brazilian players find it easier to settle in Portugal, and if they are successful there they can then use it as a strong base to move on to one of the other, stronger, European leagues," says Luis Correia, director of Portuguese football website Gestifute.
Indeed, in most football leagues in Europe there are more Brazilians playing than Argentinians, except in the two major leagues of Spain and Italy, both countries with historic links to Argentina.
Barcelona system
One club looking at ways of developing players in Argentina is Barcelona.
Its director of football, Raul Sanllehi, says clubs have to protect young players while they are growing up.
"If you take a player from his home too soon it may harm him," he says.
"While we have decided to focus on looking for players in Argentina, we are doing it within the Barcelona programme. We leave the kids at home in Argentina, but train them within the Barcelona system.
"We have focused on Argentina as the language is similar, and it remains an export country."
Better management
While Brazil seems to be slowly turning the tide, Argentina is still trying to fight the exodus of its players, something which is taxing the thoughts of Juan Cobian, director of football at top Argentine club Boca Juniors.
"We have noticed recently that if players go abroad too young they do not mature well, so we no longer want players to leave until they are mature, technically and off the pitch," he says.
Boca Juniors and other Argentine clubs are also trying to match their Brazilian counterparts and balance the books so that they need not sell.
"We are seeing better management of clubs in Brazil and Argentina, where there is now the realisation that they need to find other sources of revenue," says Mr Calzada.