Vince Cable and UK business leaders visit Moscow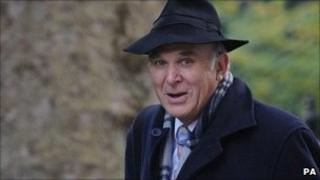 Business Secretary Vince Cable is visiting Moscow to discuss investment opportunities with Russian Finance Minister Alexey Kudrin.
Mr Cable is accompanied by some 40 business leaders, including those from Barclays, Shell and British Airways.
Economic and business ties between Russia and the UK have grown despite some political issues.
The UK invested £30bn in Russia in the January to June period, according to an estimate by one business body.
The Russo-British Chamber of Commerce (RBCC) said that the UK was the fourth biggest investor in the Russian economy in the first half of 2010.
"You have to remember that even during the Crimean war [in the 19th century] Russia and Britain continued to trade with each other, although they were at war with each other," says Chris Gilbert, the director of the RBCC.
UK Prime Minister David Cameron, who is due to visit Russia next year, has said that doing business in the Bric countries - Brazil, Russia, India and China - is a priority of British foreign policy.
Broadening investment
During the recent global financial crisis, the volume of trade between Russia and the UK dropped by 40%, says Alexander Sternik, Charge d'Affaires of the Russian Federation in the UK.
Russia's oil and gas sector remains one of the most lucrative for foreign investors.
Oil company BP has been present in Russia for many years as part of the TNK-BP joint venture.
However, the Russian government wants foreign companies to invest more in other industries.
"Russia understands it cannot rely on the oil and gas and other natural resources exports," says Mr Gilbert.
In the UK, he argues, there is an understanding that the country should not rely mainly on the financial services sector.
"So in the UK the strategy now is to form a knowledge-based economy, and Russia wants to form an innovation-based economy".
Russia's image
According to Mr Sternik, for every UK company operating in Russia, there are four French firms and five German companies.
Experts say Russia could use the UK's knowledge and experience in building a financial hub in Moscow and preparing for 2014 Winter Olympics in Sochi.
In the list of financial centres published by Z/Yen group, Moscow is rated 65th out of 78, and experts say it will not be able to compete with London, New York or the likes of Shanghai and Hong Kong for at least a decade.
Nikolai Tsekhomsky, head of Barclays bank in Russia, notes that the country's investment image abroad is still largely negative.
"Before coming to Russia, banks still have to consider the quality of life, the fact that Russia's [investment] climate is not the best one, infrastructure is still very poor," he told the BBC.
"But the biggest problem is corruption and lack of transparency, especially in small and mid-size businesses, so the banks can hardly get a clear picture of their borrowers".