Oracle awarded $1.3bn in SAP data theft case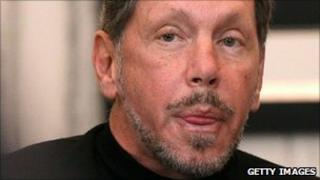 European software giant SAP has been ordered by a Californian court to pay US rival Oracle $1.3bn (£820m) after losing a data theft case.
The case revolved around customer-support documents and software stolen by SAP's subsidiary TomorrowNow.
Oracle alleged that the German company intended to use the data to poach the 358 customers involved, and demanded $1.65bn compensation.
SAP had claimed it owed only $40m, but the jury decided in Oracle's favour.
SAP said it was disappointed with the jury's decision and would look to challenge the verdict.
"[We will] pursue all available options, including post-trial motions and appeal if necessary," it said in a statement.
It did, however, reiterate that it had made a mistake: "We regret the actions of TomorrowNow, we have accepted liability, and have been willing to fairly compensate Oracle".
'Big dreams'
Oracle co-president Safra Catz expressed her satisfaction with the verdict: "For more than three years, SAP stole thousands of copies of Oracle software and then resold that software and related services to Oracle's own customers.
"The trial made it clear that SAP's most senior executives were aware of the illegal activity from the very beginning."
Observers said the verdict represented a resounding victory for the US firm, which launched its lawsuit against SAP in March 2007.
"Oracle has always dreamed big in this case and all their dreams came true. It just turned out to be a real windfall for them," said Eric Goldman, law professor at Santa Clara University.
The three-week trial included testimony from Oracle's chief executive, Larry Ellison, as well as SAP co-chief executive Bill McDermott.
The jury reached its decision after only a day of deliberation.