Financial regulator says mis-selling costs hit £500m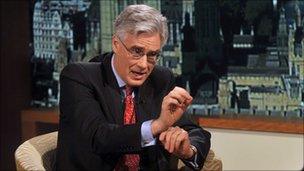 The mis-selling of finance products costs consumers about £500m a year, according to the chief executive of the UK's financial regulator, Hector Sants.
He estimated that £250m of unsuitable pensions or investments were sold annually, but the real figure is double when fees and commissions are added.
Mr Sants, chief of the Financial Services Authority (FSA), was appearing before the Treasury Committee.
MPs are investigating commission-drive sales in the investment sector.
The FSA has proposed banning financial advisers from receiving commission on products they sell. Advisers would, instead, charge separately for the advice given.
Some financial advisers have warned that they will have to shut up shop because of the planned changes.
Lord Turner, the FSA's chairman, who appeared alongside Mr Sants, said that the costs of the investment industry were too high.
"We want less wasted money," he said. "A depressing amount of people's savings is disappearing in intermediary and administration costs."
The FSA's top brass were also asked about their dispute with mortgage lenders, who have objected to plans to impose much more stringent vetting of mortgage applications next year.
The new system would involve detailed assessments of an applicant's ability to afford mortgage repayments over 25 years, with particular scrutiny given to the impact of a significant rise in interest rates.
The Council of Mortgage Lenders has warned that the new rules could "cement in place restricted mortgage lending and deny many borrowers the opportunity to fulfil their reasonable aspirations".
But Lord Turner told MPs that most lenders see affordability assessments as something they should do. It was a question of "how tight the constraints should be".
Meanwhile, the regulator defended itself against claims that it should have protected 13,000 victims of the collapse of the foreign exchange firm, Crown Currency Exchange (CCE).
Administrators are trying to salvage customers' funds from CCE after it collapse in October.
The firm advertised that it was registered with the FSA.
Mr Sants told the committee that "registration does not imply any form of regulatory responsibility whatsoever".
Small foreign exchange companies have to register with the FSA under the EU's Payment Services Directive. But Mr Sants described this as little more than submitting a form.
Customers have said that they were reassured by the reference to the FSA on Crown Currency Exchange's website. The FSA chairman, Lord Turner, suggested that such advertising should be banned.
"We need clarity," said Lord Turner.
Related Internet Links
The BBC is not responsible for the content of external sites.