Brazil's inflation hawk Henrique Meirelles bows out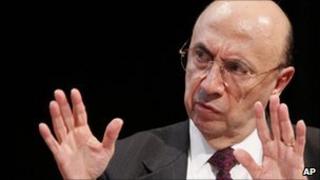 After weeks of speculation, Brazil's president-elect Dilma Rousseff has finally confirmed that she will be changing the central bank's governor, paving the way for big interest rate cuts.
Forcing the departure of inflation hawk Henrique Meirelles is Ms Rousseff's most decisive move so far.
It marks a break with the policies of her predecessor and mentor, Luiz Inacio Lula da Silva, who is said to have advised her to keep Mr Meirelles in place for at least six months after the presidential handover takes place in January.
As Brazil's longest-serving central bank governor, Mr Meirelles has been keeping his steely eye on the country's inflation rate for nearly eight years.
Throughout Lula's presidency, he has been devoted to price stability above all else, helping Brazil to earn the international confidence it enjoys today.
But now it appears that Mr Meirelles' single-mindedness is out of fashion.
In the run-up to the G20 summit in Seoul, Lula's finance minister, Guido Mantega, told journalists that Ms Rousseff "wants to work with lower interest rates" - a move that puts her at odds with Mr Meirelles' avowed strategy of using rate rises as "the basic instrument" to control inflation.
Changing the central bank governor could prove a risky tactic for Ms Rousseff.
But whatever happens to Mr Meirelles in future, his achievements since January 2003 have laid the foundations for Brazil's present-day prosperity.
Caution pays
By the time Mr Meirelles became central bank chief, Brazil had conquered its once-notorious hyperinflation.
However, the prospect of a left-wing president still spooked the markets, stoking fears of a return to runaway prices and keeping interest rates high.
Less than two weeks before Lula's term began, the central bank raised the benchmark Selic rate by a full three points to 25%.
Even that was much better than in the late 1990s, when rates went as high as 45%, but it meant that the cost of borrowing money in Brazil was still higher than almost anywhere else in the world.
Mr Meirelles resisted pressure to slash interest rates in a hurry, insisting that inflation targeting came first.
In fact, he initially pushed rates up further, to 26.5%.
This went down badly with the more diehard leftists in Lula's Workers' Party (PT) - dismissively described as the PT's "Shia" wing - who accused the central bank of strangling economic growth.
But the strategy worked. Inflation spiked at 14.7% in 2003 before heading back down into single-digit territory.
"In all the meetings I go to, my colleagues from other central banks and private bankers are queuing up to praise the actions of the Brazilian central bank," Mr Meirelles was able to boast in late 2008, as the global downturn was setting in.
Recession, then rebound
By then, Brazil's interest rates had come down as well - and they continued to fall as the global financial crisis developed.
For the first time, Brazil was in the position of being able to respond as a developed country would, by taking measures to stimulate the economy instead of choosing austerity.
Last year, a series of five interest rate cuts brought the Selic down from 13.75% to an all-time low of 8.75% by July 2009, surprising analysts who had never expected to see single-digit rates in their lifetime.
That helped to keep Brazil's recession relatively short and shallow, with the economy returning to growth in the second quarter of 2009 after six months in decline.
The country's GDP shrank by 0.2% during 2009, but is forecast to show an increase of 7.5% for 2010.
Since the strength of the rebound was fuelling fears of overheating, the Brazilian central bank began tightening monetary policy again in April this year, with three successive rate rises that have pushed the Selic up to its current 10.75%.
That rate, the highest among the G20 group of nations, is clearly too high for the president-elect.
However, she has also made clear that her administration will continue to have inflation targets, saying: "We are not going to play with inflation."
Rise of the real
The central bank's monetary policy committee, known as Copom, meets eight times a year. It has one meeting left before the end of Lula's presidency, on 7 and 8 December. Its first meeting after Ms Rousseff's inauguration will be on 18 and 19 January.
Interest rates are unlikely to change that quickly. But if Ms Rousseff has her way, it seems, subsequent meetings will start to bring down the cost of borrowing money in Brazil - and reduce the return on investments in the country.
That would have one beneficial effect, by discouraging the inflows of short-term foreign capital that have pushed up the value of Brazil's currency, the real, thereby making Brazil's exports less competitive.
Brazilian industrialists would certainly be pleased by any move to weaken the real, which has risen by more than 30% against the dollar since March 2009.
The country's National Confederation of Industry (CNI) has expressed concern at the current exchange rate of about 1.70 reais to the dollar and has called on Ms Rousseff to bring it down to somewhere between 2.00 and 2.20.
Mr Mantega and Mr Meirelles have both spoken out against competitive devaluations by other countries, which have also done their bit to make the real look overvalued.
Mr Mantega has talked of an "international currency war", while Mr Meirelles has said Brazil should not "pay the price" for the "excessive devaluation of currencies" in other countries.
Crosshead
For their part, business leaders in Sao Paulo, Brazil's economic and industrial powerhouse, would have been glad to see Mr Meirelles retain his position at the bank when Ms Rousseff takes office.
As far as the city's business community is concerned, he is one of their own, having been based there as president of Bank Boston's Brazilian subsidiary from 1984 to 1996.
In fact, he paid his former peers a kind of farewell visit on Monday, when he gave a speech at the headquarters of Sao Paulo's industrial federation, Fiesp.
"A lot of people are asking me what I expect from the future and from public life," he said.
"My reply has been that I hope to end this mandate, together with President Lula, by concluding this work which is the responsibility of the central bank - that is, to ensure macroeconomic stability in the country and provide the basic conditions for sustainable growth."
To many present, that sounded a lot like "my work here is done" - leaving the way clear for a new governor with a new approach.