Homes at risk due to debts as small as £600, OFT says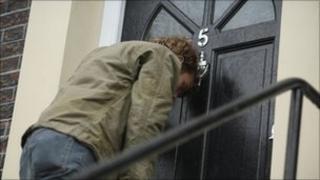 Some people are being forced to put their homes at risk because of debts of as little as £600, the Office of Fair Trading (OFT) has found.
The regulator is clamping down on lenders who tell customers to pledge their homes against non-mortgage debts.
Four providers have been ordered to "address concerns" about the way some consumer debts are enforced.
In a minority of cases across the industry, lenders sent "oppressive and misleading" paperwork to borrowers.
Trend
The process of securing these debts is known as a charging order.
Financial companies have the right to apply to a court for a charging order when borrowers have failed to keep up payments on credit card debt, loans or hire purchase commitments.
This order turns these unsecured debts into debts secured on the borrower's property.
Over the last five years, the number of charging orders applied for has risen from 45,000 to 164,000.
Only a relatively small proportion of orders lead to people being forced to sell their homes.
"'Our investigation uncovered instances of charging orders being used to secure debts of less than £600. Lenders are entitled to use charging orders but must do proportionately," said Ray Watson, the OFT's director of consumer credit.
"Where we consider the using of charging orders to be unfair or oppressive we will take action to protect consumers."
'Pressure'
The OFT has told four offshoots of major lenders to address the way they use orders.
The four are: Alliance and Leicester Personal Finance, HFC Bank - part of the HSBC group, American Express Services Europe, and Welcome Financial Services - part of Cattles.
Each of the four co-operated with the OFT during the investigation, and have made changes to address the problems identified, the regulator said.
In general, during the investigation of the whole sector, the OFT found that some providers failed to consider the customer's circumstances, applied substantial charges for bringing in debt collection agencies, and did not have adequate checks in place during lenders' decision-making process.