China seeks to calm fears about food price inflation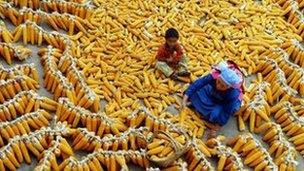 China's main economic planning agency has moved to reassure people who fear inflation is getting out of control.
The National Development and Reform Commission (NDRC) said in a statement that the country had "the capacity" to keep prices in check.
There is particular concern about food price inflation, amid suggestions that some people are hoarding commodities.
But the NDRC said the government had adequate reserves of foodstuffs like poultry, eggs and grain to meet needs.
Food prices jumped 10.1% in October from a year earlier, increasing the overall inflation rate to 4.4%, well above the government's 3% target.
The government has taken measures to rein in banking lending, to help cool the booming property market, but many experts are predicting that interest rates will have to rise.
The NDRC said: "This fear [of inflation] is understandable, but we can safely say that the current conditions in China are fully conducive to maintaining basic price stability.
"This country has the capacity to keep the price level basically stable."
The BBC's Shanghai correspondent, Chris Hogg, said that over the weekend the government told local authorities to boost food production to ensure supplies were adequate, and to punish illegal activities like hoarding that help inflate prices.
He added that the government was trying to do whatever it could to ensure supplies get through to markets.
China's Cabinet promised last week to ensure adequate supplies of coal, power, oil and gas, and said it would impose price controls on daily necessities if required.
In addition, the government has promised food subsidies for the poor and increases in pensions and minimum wages.
Related Internet Links
The BBC is not responsible for the content of external sites.