Ireland to apply for bail-out: Your comments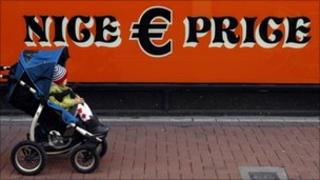 Ireland is set to apply for a multi-billion euro bailout from the EU and the IMF.
Finance minister Brian Lenihan put no figure on how much may be borrowed, but told RTE radio it would be "tens of billions" of euros.
BBC News website readers in Ireland have been e-mailing their reaction. You can read a selection of their comments below.
Your comments
I am really worried for the future of this little country and I am unsure of the outcome of the IMF moving in here. If I had a choice I would leave here tomorrow. Kate Kelleher, Monard, County Tipperary
As an Irish citizen, I'm actually relieved that the IMF and EU are finally at the economic helm. I don't think any Irish political party, of any colour, has the guts or policies to implement the policies that will now be enacted under the bail-out. Mike, Ireland
We have a severe winter ahead with many hardships and a country reeling and shuddering from calamity to calamity. Terms and conditions that are part of any bail-out will have to be severe and so should be the treatment of unbelievably irresponsible so-called bankers. N R de Mowbray Jeffrey, Bantry, County Cork
I am most definitely worried. Ireland is about to be bought out and taken control of by some insurmountable legal contract - one more country to be gobbled up by the EU to do with as they wish. These are very worrying times. Ian, Ireland
As hard as things will be, I'm more hopeful for the future now. This country is screaming for a general election and this is now almost guaranteed within the next four months and maybe sooner. David O'Brien, Portlaoise
If Ireland was a limited company, it would have been placed into liquidation by now and the directors would be investigated and prosecuted for the reckless activities they engaged in. Andrew Bonehill, Dublin
I'm worried about the IMF terms but there is a sense that with the IMF here, at least we have people who know what they're doing. I want corporation tax to stay the same and I want senior bond holders of the banks to feel some of the pain. Lar O'Toole, Kilkenny
I think the arrival of the IMF and EU is positive for the country. They will impose economic measures on the Irish government which it has proved incapable of doing in the national interest. The Irish people will be informed of the true extent of the financial difficulties facing the country. Hopefully it will result in economic and political change for the good. David Fitzgerald, Kerry
The government should never have bailed out the banks. Every time the government pumps taxpayer money into the banks, their share prices go up only to fall again. Some people out there are making a lot of money. Anthony, Dundalk
Ireland would have been better served in the long term to default on the debts of its banks and perhaps leave the Euro. Taking responsibility for the failures of banks, both at home and abroad, is unjust. Robert Barrett, Kilkenny