Harrah's cancels share flotation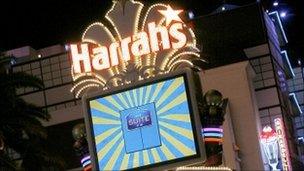 Harrah's Entertainment, the world's largest casino operator, has cancelled its planned share issue, blaming market conditions.
The firm, owner of Caesar's Palace, had hoped the initial public offering would have raised as much $531m (£322m).
Analysts said the loss-making firm had sought to price the shares too highly.
Harrah's was bought by private equity groups Apollo and TPG in early 2008 for $31bn, just before the global financial crisis. It now has debts of $20bn.
The company had hoped to use money raised from the share sale to both lower its debts and continue growing the business.
While Harrah's best-known casino is Caesar's Palace, it owns casinos across the US in its own name.
It also has a number of casinos in the UK.
Harrah's made a loss of $634m in the nine months to the end of September, hit by people spending less on gambling due to the uncertain economic conditions.
Related Internet Links
The BBC is not responsible for the content of external sites.