'Bidding war' for homes to rent
By Nigel Cassidy
Business correspondent, BBC News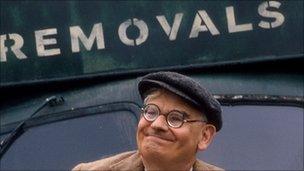 People looking for houses to rent in many parts of the UK are encountering a new hurdle in their hunt for a home.
Landlords, or more often their letting agents, are increasingly asking would-be tenants to compete by making "sealed bid" offers for the home they want.
The practice is relatively commonplace in the market to buy homes, but is seen as a new development in the rental sector.
The demand for rented property is rising during the mortgage drought.
Many more families and individuals find they cannot afford or get mortgages, so they are having to compete against each other to secure a tenancy.
Jacqueline Cooper and her fiancee James Fleming are a young professional couple who were suddenly faced with a move from Taplow in Berkshire when their landlord decided to sell up.
The couple count themselves as lucky, having just managed to rent a small terraced house with a garden in nearby Windsor.
They finally won the day after repeatedly losing out to other home-seekers, all chasing every available property in the area.
But to win, they first had to put down a deposit and make a sealed bid and all against a deadline set by the letting agents.
Jacqueline had not even had time to see the house before they had to make the bid - she had to rely on her fiancee's opinion.
She pointed out it was not just the price offered in the sealed bid that counted. The couple put in a bid close to the asking price, and have a small dog, which they were told was sometimes preferred by landlords to a couple with young children.
"We had seen a couple of properties we really liked, but lost out because others were quicker off the mark than we were," she said.
"So this time we just acted. I had not even seen the property myself before we paid the deposit and put in our bid, of about the asking price. In retrospect, I suppose it was a bit risky - but we now have a house."
Agents say sealed bids may only be asked for where there is intense competition for a limited supply of properties.
This is most likely to be in areas where first-time buyers or others cannot get mortgages and have to keep renting. It is also a market response to higher rental prices.
London has experienced the biggest rise in rents, but other regions are not immune. More than a third of landlords surveyed by the National Landlords Association said they were seeing higher rents in Wales, Scotland and the North West of England.
Research to be published on Monday by the property website RightMove is expected to find that 55% of renters were "trapped" - wanting to leave rented accommodation, but finding themselves unable to do so.
James Moss, a director of Curzon Investment Property, said that without access to finance, buyers could not purchase homes.
"Combine this with rising student fees and job losses across the public sector, and what we are left with is facing up to being a nation of renters as the home buying dream is eroded," he said.
Richard Davies, head of lettings of Chesterton Humberts, said that there was no mystery in the sealed bid process.
"If we do have more than one offer for a property, what we do is give a deadline for people to submit their best and final offers. All those offers go to the landlord who will decide who to go with," he said.
"But even if your offer is refused, do not be too despondent, because sometimes the winning bidder's references do not check out, in which case you may be offered the property."
Landlords insist sealed bids are not a device to get tenants to gazump each other and pay more.
Chris Norris, of the National Landlords Association (NLA), said they were mainly employed by managing or letting agents and used to ensure that once an offer is accepted it is final.
"The sealed bid has been seen as a fairer option, compared to a situation when a landlord may agree a tenancy in good faith, only for another would be renter to come along and say that they are prepared to pay 20% more," he said.
"Many landlords might be tempted to take such an offer, but that is not fair on someone who thought they had found somewhere to live."
As for Jacqueline Cooper and her fiancee James Fleming, happily unpacking books and groceries in their new Windsor home, they admit they have every sympathy for the families with young children that they saw at various viewings in the area - people who were frozen out in the bidding process.
It seems that with the current state of the housing market, sealed bids will be here to stay - as long as many would-be renters are chasing a dwindling supply of good rental homes.
Related Internet Links
The BBC is not responsible for the content of external sites.