Home rental costs 'continue to rise'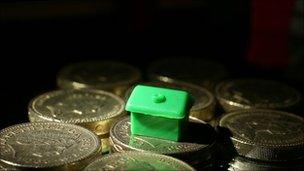 Frustrated buyers are continuing to push up the price of renting a property in the UK, according to a survey.
The average cost rose for the ninth consecutive month to £691 a month in October, according to LSL Property Services.
The price is rising as potential first-time buyers struggle to get a mortgage and so continue to rent.
A separate survey from Spareroom.co.uk suggested that seven people were chasing every room for rent.
The house sharing website said this was the highest level of demand since it launched six years ago.
The survey by LSL found that the average rent was 0.4% higher in October than the previous month, and 4.5% higher than in October last year.
High demand was also being driven by potential buyers waiting as they expected house prices to continue to fall.
Landlords were also unable to extend the supply of rental properties because the mortgage drought was making it difficult for them to extend their property portfolios.
"Rents have been creeping upwards, month in, month out for the last year, and now stand just a few pounds shy of £700 per month," said LSL's estate agency managing director David Newnes.
"The recent increases are likely to steady slightly in run up to Christmas - traditionally a slower time for the market. But a strong underlying growth will remain, as the key market dynamics are geared towards further rises."
Rent rises were strongest in the South East of England, but the average rent fell slightly in Yorkshire and the Humber in October.
Read a selection of your comments below
Related Internet Links
The BBC is not responsible for the content of external sites.