Gas and electricity bills hide internet savings
By Kevin Peachey
Personal finance reporter, BBC News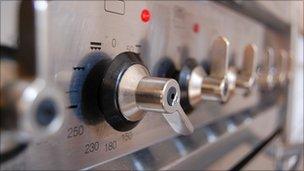 New energy statements are failing to make clear that some customers could save hundreds of pounds on fuel bills.
The statements, which will be delivered to every UK home by the end of the year, will explain discounts available on a customer's current tariff.
But they will fail to detail the savings that can be made by switching to an internet-based plan.
Figures show a difference of £239 between an online tariff and paying by cheque when a bill arrives.
Suppliers have been told by the regulator Ofgem to start sending out annual statements. They are intended to help consumers understand their energy use and what it is costing them.
They should include information such as the name of a customer's tariff and a reminder that the customer can switch provider, along with advice on how to do so.
They must also point out any discounts that apply to the tariff the customer is on when compared with the same supplier's standard direct debit tariff.
But they will not show cheaper deals available for online tariffs. These are internet-based deals that use e-mails instead of paper bills and require customers to enter meter readings online.
At present an estimated 13% of UK households are on an online energy plan.
The regulator has not demanded these cheaper deals be flagged up, because it says direct debit - not an online plan - is "the cheapest payment accessible to the majority of customers".
The reason, according to an Ofgem spokesman, is that these deals are often time-limited or have other conditions - in other words, that they are a moveable feast.
This has had some support from watchdog Consumer Focus, which said it could prove difficult to put an accurate price of the cheapest deals on annual statements.
And the energy suppliers say the statements will make consumers better equipped in any case.
"The best way to ensure you are on the best deal from your supplier is to talk to them direct - there is no one-size-fits-all solution. But it is also important to shop around to see if other companies might offer a deal that suits you better," said a spokesman for Energy UK, which represents the major energy companies.
"Annual statements provide useful information on cost and energy usage, making it easier for customers to make comparisons with offers available from both their existing supplier and other companies."
But the argument does not seem to have convinced the Department of Energy and Climate Change (DECC). In line with the coalition agreement, it is planning a change in the law next year to force suppliers to include details of the cheapest deal on the statement.
This move, according to Ann Robinson, of price comparison website Uswitch, is leading to a narrowing of the gap between the annual cost to those paying when they receive a paper bill and those on an online tariff.
"The proposal that suppliers will have to show their cheapest tariffs on all household bills could be causing them to re-think their pricing strategy," she said.
"At the moment just over one in 10 of us are on a competitive online energy plan. If suppliers bring it to the attention of all their customers, this number could rocket. Clearly suppliers are concerned about the impact it could have on their bottom line and so may be looking to see how this pans out.
"The important thing is that consumers understand that these plans continue to be highly competitive and along with fixed price plans offer an easy way to protect yourself from the impact of winter price hikes."
Uswitch calculated figures for the BBC showing the difference between the average standard plans (payment on receipt) and the average online price among suppliers in the UK for dual-fuel gas and electricity bills.
This stood at £143 a year in November 2007, and widened to £179 a year later, and to £265 by November 2009.
However, the difference narrowed again to £239 by November this year. The typical online price was £956 compared with £1,195 for the average standard bill.
Read a selection of your comments below
Related Internet Links
The BBC is not responsible for the content of external sites.