Greece unveils austerity budget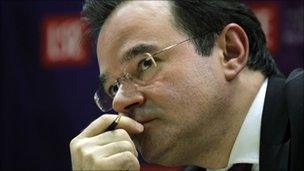 The Greek government has unveiled an austerity budget that aims to cut its 2011 public deficit to 7.4% of the nation's annual economic output or GDP.
If achieved, this would mean a 5bn-euro ($6.8bn; £4.3bn) reduction on Greece's projected 9.4% deficit for 2010.
Under the budget plans, the government will cut health and defence spending, and increase the sales tax on most retail items from 11% to 14%.
Greece had to accept a 110bn-euro ($150bn; £93bn) rescue deal in May.
This sum - which is being given to the country in three stages - has come from the European Union and International Monetary Fund.
To get the money, Greece had to agree to enforce substantial spending cuts to reduce both its public deficit and overall government debt, which are among the largest in Europe.
The country's finance department also said that the Greek economy would contract by 4.2% this year and by a further 3% in 2011, higher than its previous estimate of a 2.6% slowdown next year.
The budget also reveals that the Greek government is to sell stakes in state-owned companies, and even four Airbus A340 planes that it owns.
The sale of organisations to be partly or fully privatised included rail operator Trainose, mining firm Larko, gas operator DEPA, and defence group Hellenic.
Related Internet Links
The BBC is not responsible for the content of external sites.