Selling Sierra Leone to investors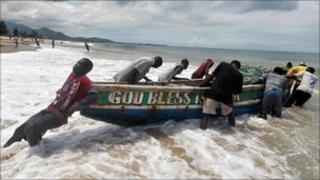 Sierra Leone's president is actively seeking foreign companies to invest in the country's mining and agricultural sectors.
President Ernest Bai Koroma wants to run the country like a business. He used to be an insurance executive and firmly believes the country has to be open to foreign investment.
But is that really the answer for the country's economic woes, or does it simply further exploit its resources and impoverished people?
There is the danger that foreign companies might strip the wealth, then simply leave the country.
"We have put in place a new mineral act to ensure that civilians benefit as much from the natural resources as the investors," Mr Koroma says.
"We encourage investors to come in with their technology and their knowledge, but we are also concerned about the local environmental impact and we will ensure strict adherence to our environmental laws."
With those conditions in place, Mr Koroma believes it is a win-win situation for both sides.
Dividends of peace
Not long ago, the country was mired in a brutal civil war and ranked as the world's poorest nation.
Sierra Leone's civil war in the 1990s left infrastructure destroyed and key industries such as mining, agriculture and tourism were left struggling.
In September, the UN Security Council lifted the last sanctions against Sierra Leone, saying the government had re-established control over its territory, and former rebel fighters had been disarmed and demobilised.
According to Jonathan Hyman at the Economist Intelligence Unit (EIU), the country is remarkably safe and secure.
"There is a high degree of social stability," he says, "There are strong ethnic ties in the regions, but Sierra Leone has avoided ethnic divisions."
The president is keen to change the perception of his country being dangerous.
"I am one of the few presidents of the world who drives himself around and walks around the streets. People know that I am there and I wave to them," he says.
"This is how safe the country is. What more can you ask for in creating a stable environment?" he asks.
Balancing act
There has been peace in Sierra Leone for eight years and the government is under pressure to bring about development.
Liberalised trade policies mean that investors are not legally obliged to find local partners, as is often the case elsewhere in Africa, while in South Africa companies have to comply with the country's black empowerment laws.
There are some restrictions however, because of the country's vast mineral wealth including diamonds, gold iron ore and bauxite, which is used to produce aluminium.
Investments of less than $500,000 requires a Sierra Leone holding of 25% - designed to protect small scale local artisan miners.
"In terms of the investment opportunities, there are risks everywhere," the president argues.
"You can lose billions of dollars on Wall Street which you assumed to be safe," he says.
"We have to change this perception of Africa being a no-go area."
Sierra Leone has yet to benefit from China's largesse, but Chinese companies have been invited to bid for the tender to build a new airport at Waterloo, to serve Freetown, the country's capital.
Cleaning up
One issue deterring big international companies to invest in the country has been the perennial problem of corruption.
But according to the Jonathan Hyman of the EIU, there has been a lot of progress in tackling the problem over the last couple of years.
He maintains that Abdul Tejan-Cole, head of the country's anti-corruption commission, made significant improvements while in office.
"His departure in May unsettled international donors, but his successor, Jospeh Kamara, has widened the scope of the office and has recently charged the former head of the national revenue authority on 57 counts of corruption," Mr Hyman says.
Lost generation
But one of the controversial points of the government's policy is that foreign companies are allowed to import any labour they require, including unskilled workers.
Youth unemployment, which stands at 40%, is proving to be highly contentious.
"This is a problem we are addressing," Mr Koroma says, "It cannot be addressed overnight because of the unique difficulties that we have."
Over the period of the war, youth missed out on opportunities.
"Because of the war, many young people have not darkened the doors of a school. We need to educate them, we need to ensure that they are equipped with skills," he says.
A lot of them were driven off the land and need to return.
"We are only using about 15% of arable land and we need to use about 27% to supply domestic consumption - the remainder can be used to export promotion," the president asserts.
"Our farmers have remained poor because they have been subsistence farmers, and in commercialising agriculture we have to address a number of other issues: markets, accessibility, roads, storage capacity, value addition - we can train youths to work as farmers so they can earn a comfortable living."
The president will have to call upon his knowledge in the insurance business to calculate just how risky some of his policies are going to be.