Bank of England MPC's three-way split continues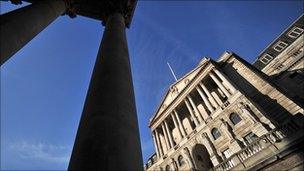 Bank of England policymakers were split three ways again during their meeting earlier this month, minutes have shown.
Seven of the Monetary Policy Committee (MPC) members voted for no change to interest rates and no additional stimulus spending.
However, Andrew Sentance once again called for a quarter-point rise in rates to 0.75%.
Meanwhile, Adam Posen voted in favour of £50bn of extra quantitative easing (QE), the bank's main stimulus measure.
It is the second month in a row that the vote on the MPC has been split three ways.
Figures released on Tuesday showed that Consumer Prices Index (CPI) inflation had risen to 3.2% last month, well above the target rate of 2%.
Minutes of the MPC's meeting, which took place on 3-4 November, showed members had discussed whether the recent above-target inflation could lead to an increase in inflation expectations.
"Some committee members were concerned that recent inflation outturns and the higher near-term profile meant that the risk to inflation expectations was somewhat greater than previously thought," the minutes said.
However, the committee also considered that, despite "surprisingly" strong third-quarter GDP growth of 0.8%, there was still a "significant margin" of spare capacity in the economy and "medium-term inflation expectations remained anchored".
As a result, the majority of MPC members favoured maintaining the Bank's existing policy.
The minutes said members had "differing views on the precise balance of risks to inflation in the medium term, but stood ready to adjust policy in either direction as necessary".
Howard Archer, chief UK and European economist at IHS Global Insight, said: "We see no reason to change our view that the Bank of England is most likely to keep interest rates down at 0.50% until at least late-2011."
Related Internet Links
The BBC is not responsible for the content of external sites.