Crown Currency Exchange customers dealt fresh blow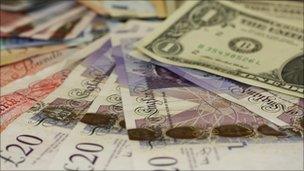 Customers who lost thousands of pounds in travel money when an exchange company collapsed are only expected to recoup a "small percentage" of lost funds.
A creditors' report detailing the collapse of Crown Currency Exchange reveals that 8,000 people have made claims totalling £16.5m.
The company went into administration at the beginning of October.
The administrators said the case would take some time to "unravel".
The business, based in Hayle in Cornwall, was established six years ago.
It allowed individuals and business customers to pre-order foreign exchange at a set price up to a year in advance. Foreign currency was often sent through the post to customers who had sent a cheque in advance, or transferred money online.
It provided travel money in 80 different currencies, as well as travellers' cheques and money transfers, sometimes for people to buy property.
"The value of the transactions typically ranged from £100 to around £20,000. However there are several transactions in excess of £100,000," said Paul Clark, of administrators MCR.
When it collapsed at the start of October, customers were warned it could take up to six months before they heard if they would get any cash back.
CCE was not covered by any Financial Services Authority compensation schemes.
Cases of lost money included couples planning honeymoons, surprise holidays and a Disney break for a youngster who had been suffering from cancer. An action group has also been set up, representing about 2,000 creditors.
Joint administrators SPW and MCR received nearly 9,500 e-mails and 3,000 phone enquiries from customers.
However, in an unusual move, the administrators have obtained a court order so the names and addresses of those who have lost money need not be listed on the creditors' report.
The administrators had also obtained a freezing order on the assets of the director, Peter Benstead, which has since been discharged after he gave an undertaking not to sell any of his assets.
They added that "a significant number of transactions have been identified that require further investigation".
According to the report, Mr Benstead believed on 27 September - when he held a meeting with the eventual administrators - that the businesses were heavily insolvent and had been for some time. The company went into administration on 4 October.
The company's bank - Barclays - had been "seeking clarity" on the how the company operated since May. It froze outgoing payments on 29 September.
Between then and the administration date of 4 October, some £1.1m customer payments were received. The administrators are reviewing the legal status of this money.
Harold Sorsky, of joint administrator SPW, said: "This is a very challenging situation that we are having to unravel.
"To further assist the ongoing investigations we have instructed forensic IT experts to undertake a detailed forensic imaging of all the computer hardware and IT systems at the former headquarters of the companies in Cornwall."
A creditors' meeting will be held at the Hilton Metropole Hotel, at the NEC in Birmingham, at 2pm on 30 November.
Related Internet Links
The BBC is not responsible for the content of external sites.