Battling bills - what help is there?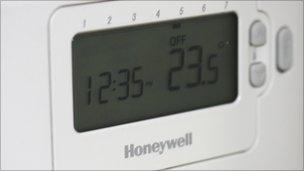 Energy bills are on the rise again and this will mean more households struggling to pay their bills. This guide outlines what help is available.
As well as the general help listed here, suppliers often offer grants, special tariffs and other measures on a case-by-case basis.
If you are having trouble paying your bill you should check with your supplier to find out what help is available from them.
The Energy Saving Trust offers information on getting help with insulating your home and reduce your energy bills.
It will tell you about the government's forthcoming initiative called the Green Deal, which starts in earnest on 28 January 2013.
Under this, you pay for energy-saving improvements such as a new boiler, over time, through your energy bill. The idea is that the work will translate into lower bills, and the saving will pay for the costs you have incurred.
The trust also tells you about the obligation of each of the big six energy firms to offer free heating and insulation help to poor households, or those living in poor parts of the UK.
Since 2008 this has meant that individual firms, with more than 250,000 domestic customers, have been offering a variety of their own schemes to cut energy use, such as free loft-lagging and cavity-wall insulation.
These obligations, under what is called CERT (Carbon Emissions Reduction Target), come to an end at the end of December 2012.
But to meet their targets for the number of households that have benefited from these improvements, some of the schemes are now completely free to ensure a full uptake by the public.
According to Consumer Focus, the deals on offer as of October 2012 are:
EDF Energy is offering free insulation to all customers - with some exclusions relating to the suitability of your property. EDF Energy is also offering a £200 incentive to low-income households that register for free insulation.
SSE is also offering free cavity wall and loft insulation to all consumers - with some exclusions relating to the suitability of the property. SSE is also offering a High Street voucher worth £75 to low-income households who take up free insulation.
British Gas is also offering free insulation worth up to £1,000 to all households in Britain, regardless of their energy supplier, that apply by 30 November 2012. They also offer a £50 referral scheme to help vulnerable customers, many of whom could also be eligible for loft clearance support.
Scottish Power has also extended its free insulation deal to all customers, with some exclusions relating to the suitability of your property.
E.On only applies the free insulation deal to households living on low incomes or benefits. But it will also provide a £100 cheque to any of these households who take up the deal.
Npower also offers free insulation to households living on low incomes or benefits.
A tax-free annual benefit, it is usually paid in November and December.
Those aged 61 or over and who normally live in the United Kingdom.
How much you get varies according to personal circumstances. Payments will be between £100 and £300 in 2012-13.
If you have not had the payment before and also are not getting a state pension or another benefit (apart from housing benefit, council tax benefit or child benefit), the payment will not be automatic - you need to apply.
You can get a claim form by calling 08459 151 515.
The payment is made when the average temperature is recorded as, or forecast to be, 0C (32F) or below over seven consecutive days.
You may be entitled if you receive the following:
pension credit
income support
income based jobseeker's allowance
income related employment and support allowance.
However, apart from those receiving pension credit, eligibility will depend on other factors, such as also receiving a disability or pensioner premium, or having a child under five living with you, or a child who is disabled.
A payment of £25 is made for each seven-day period of very cold weather between 1 November and 31 March - when the average local temperature is recorded as, or forecast to be, freezing (zero Celsius) or below over seven consecutive days.
The payment is made automatically.
A scheme in England which pays for the installation of heating equipment and insulation in privately owned or rented homes.
Depending on an applicant's needs, it will pay for things such as loft insulation, draught proofing, gas room heaters with thermostat controls, gas, electric or oil central heating.
Energy advice and two low-energy light bulbs are also available.
Warm Front pays the bill if the building is badly insulated or does not have a central heating system, and you also receive one of the following benefits:
pension credit
child tax credit, and with an income of less than £15,860
the support or work related activity elements of income-related employment and support allowance
working tax credit, or income support, or income based jobseeker's allowance. But in these cases there are extra conditions.
Grants range up to £3,500 - or up to £6,000 if your home needs oil central heating.
You will need to complete an application form, by post, online or over the phone, before a surveyor visits you to assess and recommend work for your property. Call 0800 316 2805.
ENERGY ASSISTANCE PACKAGE SCOTLAND
free advice over the phone from the Energy Savings Scotland advice centre on 0800 512 012
benefits and tax credit checks and information on low cost energy tariffs. This may trigger eligibility for the Scottish Government's Universal Home Insulation Scheme (UHIS). It offers energy efficiency measures, such as free loft and cavity wall insulation, depending on where you live
these same measures are also on offer to older households and people on some benefits. You may qualify if you are a homeowner or the tenant of a private landlord, and you or your partner is: aged 70 or over and you have no central heating; you are aged 75 or over; or you receive a qualifying benefit
there is also an "enhanced package" which can offer you a new central heating system or a new boiler as well as draught-proofing and insulation. To qualify you must be a home owner or a private tenant who is aged 60 or over, and has never had central heating. It is also on offer to home owners and private tenants in badly insulated homes who are aged 75 or over; or are aged 60 or over, have a child under 16, are pregnant, are terminally ill - and receive one of a large number of qualifying benefits.
THE WELSH GOVERNMENT'S FUEL POVERTY SCHEME
It provides advice on keeping your house warm. And it offers free improvements to increase the energy efficiency of your home, if you qualify.
If you are living on means tested benefits AND you live in the hardest-to-heat homes you may be eligible for a free new central heating boiler, insulation for a hot water cylinder, loft, cavity wall and solid wall insulation, draught proofing for doors and windows or renewable energy technologies such as solar panels.
Telephone 0808 808 2244 from a landline or a mobile phone.
NORTHERN IRELAND WARM HOMES SCHEME
The fund gives a grant for a package of energy efficiency and heating measures ranging from insulation to, in some cases, a central heating system if you do not have one at the moment.
Householders of any age (the applicant or their spouse) who are in receipt of one or more of the following benefits:
income support
income related employment support allowance
income based job seeker's allowance
pension credit
child tax credit (with relevant income less than £16,190)
working tax credit
disability living allowance
attendance allowance
housing benefit
The big six energy companies have their own advice services.
Typically they can be found on the firm's websites.
Related Internet Links
The BBC is not responsible for the content of external sites.