Indian industrial output growth slows for second month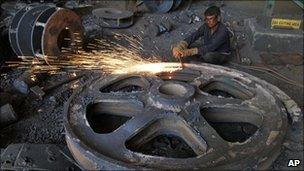 India's industrial output grew 4.4% year-on-year in September, pointing to a shrinking of capital goods output for the second month in a row.
The growth figure marked a decline from 5.6% year-on-year in August, government figures showed.
The output of factories, mines and utilities was well below the 7% forecast by economists.
Indian PM Manmohan Singh has forecast an overall economic growth rate of 8.5% this year and 9% in 2011-12.
Federal finance minister Pranab Mukherjee said the industrial slowdown was a "matter of concern".
India's factory output has lagged far behind China's, which showed a 13.1% year-on-year growth in October, according to government data released this week.
Related Internet Links
The BBC is not responsible for the content of external sites.