Siemens signals brighter future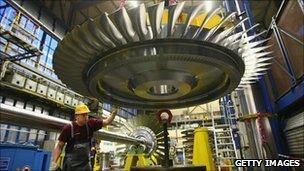 Industrial giant Siemens has said its net loss was 65% lower in the final quarter of 2010 than the same period a year earlier.
The loss was due to the cost of redundancies in its IT division and a fall in the accounting value of its healthcare firm Diagnostics.
But it said its growth was "gaining momentum" and expected to win new orders at a faster pace next year.
The company also signalled the first rise in its dividend since 2007.
This year's dividend will rise substantially to 2.70 euros per share from the 1.60 euros per share paid in 2009.
Analysts said the rise signalled confidence in the future, and its shares were the biggest risers on Frankfurt's Dax index - up 2.6%.
For the full year, net income climbed 63% to 4bn euros (£3.5bn; $5.6bn).
The fourth-quarter net loss was 396m euros, compared with a loss of 1.06bn in the last part of 2009.
The fastest growth in new orders - 40% - was from the group's energy sector, which makes products for and carries out research and development for power generators.
Revenue from China and India grew by 25% and 15%. The value of these markets is still much smaller than its home European base, where revenue grew by just 1%.
There were also signs, however, that Siemens was benefiting from the strong recovery of the German economy, from where new orders grew by 10% in the fourth quarter.
Related Internet Links
The BBC is not responsible for the content of external sites.