Inflation 'is higher for elderly'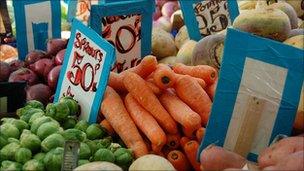 The cost of living rises faster for older people than the typical household in the UK, a study has said.
Inflation is steeper as the elderly spend a bigger proportion of income on food and fuel, said Age UK Enterprises - the charity's commercial arm.
At present, the typical 60-year-old's living costs rise at £620 more a year than the typical household, it said.
However, official statistics show that pensioners have become relatively more prosperous as well as more numerous.
Recently published figures from the Office for National Statistics (ONS) said that in 2008-09, the average pensioner couple had a weekly income of £564, or just over £29,000 a year.
Retired households now make up 38% of the poorest fifth of all UK households, down from 56% in 1977.
Pensioner incomes have risen faster than average earnings in the past 14 years, but still vary widely.
However, Age UK Enterprises' research suggests that the cost of living rises faster the older people get.
It said that, as well as rising food and fuel bills, this generation have often paid off their mortgage and so have not benefited from the lower mortgage costs that have resulted from the record low interest rates of the past 18 months.
"The impact of inflation on over-55s has been substantially underestimated and it worsens as you age, with over-75s experiencing cost rises on average 4% above official measures," said Gordon Morris, managing director of Age UK Enterprises.
A Department for Work and Pensions spokeswoman said: "We are committed to ensuring that pensioners get the support they need in retirement.
"This is why we restored the link with earnings and brought in a 'triple guarantee' for the basic state pension. These changes will mean that someone retiring next year will now be £15,000 better off over their retirement.
"We know that older people have higher heating costs and that is precisely why we kept our promise to protect winter fuel payments and are permanently increasing the cold weather payments to £25."
Related Internet Links
The BBC is not responsible for the content of external sites.