US Federal Reserve sets out first phase of bond buying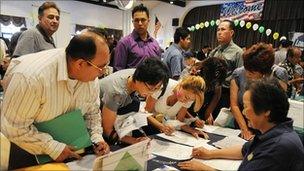 The Federal Reserve has announced the first phase in its new programme to try to boost the fragile economy.
Last week it said it would will pump $600bn (£373bn) into the US economy by the end of June.
Now it says the first stimulus will see it buying $105bn worth of government bonds, starting later this week until early December.
This stimulus marks the beginning of a second round of "quantitative easing" (QE).
Some analysts see QE as the last chance to get the US economy back on track.
The Fed will buy $75bn of government debt as part of the new $600bn programme. It said it would buy another $30bn using the proceeds from its mortgage portfolio.
Wednesday's announcement helped boost stocks and bond prices.
The US economy grew by an annual rate of 2% between July and September, which is not enough to reduce high unemployment.
US interest rates are already close to zero, which means the Fed cannot reduce rates any further in order to boost demand - the more traditional policy used by central banks to stimulate growth.
And so instead it announced a fresh round of QE, which the programme has been dubbed QE2, after the Fed pumped $1.75tn into the economy during the downturn in its first round of QE.
It is in addition to the Fed's previously announced plan to reinvest $250bn-$300bn of repayments it is due from existing US mortgage debt investments over the coming year.
However opinions are divided about how effective QE2 will be, partly because of questions about how much impact the first, much larger, round of QE had.
Some observers credit the programme with pulling the US out of recession, while others argue that it had little impact on consumer demand and the tight credit conditions that make it hard for individuals and businesses to access bank finance.
What most do agree on, however, is that the Fed had to do something.
Latest figures showed that the US economy grew at an annualised rate of 2% between July and September.
The annualised rate is the rate at which the economy would grow over a year if the three-month growth rate were replicated over all four quarters.
While this was an improvement on the 1.7% annualised growth seen between April and June, it was less than the 3.7% annualised growth recorded in the first three months of the year.
Together, these growth rates are below the historical rates posted by the US economy during recoveries from past recessions.
Such modest rates of growth are having little impact on the high level of unemployment in the US, which currently stands at 9.6%.
It is this high level of unemployment that is acting as a key drag on economic growth.
Related Internet Links
The BBC is not responsible for the content of external sites.