Korea uses G20 to nurture African links
By Duncan Bartlett
Business reporter, BBC World Service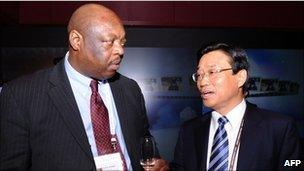 The G20 summit is putting South Korea onto the world stage, but the Asian nation believes it also presents a unique opportunity to help developing countries out of poverty.
Korea is proud of its own progress. At the end of the Korean War in 1950, it was among the twenty poorest countries in the world. Now, it is among the twenty richest and has decided to give away some of its newfound wealth.
This year it has allocated $60m (£37.2m) support for African countries, a five-fold increase on the 2003's level.
And it plans to raise its aid budget next year, although in comparison to other nations, the total amount remains small.
Nevertheless, South Korea's president Lee Myung-bak designated 2010 as Korea's Year of Africa. Along with the increase in aid, it aims to share its experiences with developing nations and help them find a voice.
South Korea sees itself as an "emerging economy" and can therefore act as a bridge, linking advanced countries and developing nations, Jae-shin Kim, a spokesperson for the Ministry of Foreign Affairs, told the BBC.
That bridging role is apparent in the guest list for the G20 summit.
Korea has invited the president of Malawi, Bingu wa Mutharika, who currently chairs the African Union, and the Ethiopian president Meles Zenawi, who chairs the New Partnership for Africa's Development (NEPAD).
In theory, this will give them an opportunity to join a dialogue in Seoul which includes the leaders of the United States, Germany and France.
Jacob Zuma of South Africa will also attend, as his country is a G20 member.
China will be there too, of course, and South Korea is conscious that China has become extremely active in Africa, investing heavily in projects that will bring it natural resources such as oil.
And a spokesman for Korea's Ministry of Land, Maritime and Transport affairs made clear its own ambitions in Africa.
"Korea [has a] lack of natural resources and thus is keeping an eye on the African continent - just as developed nations and China are fiercely doing so - to secure natural resources," they said.
It has not been a smooth process so far.
One of Korea's boldest moves was a promise made in 2009 to build 30,000 homes in Ghana.
The Ghanaian government says it will pay $1.5bn to a Korean company for the properties - but for a poor African country, that is an enormous sum.
Ghana says the bill will be paid over a 20 year period, starting in five years time.
By that time, the country should be an oil-exporting nation and it expects its wealth to increase dramatically as a result.
Ghana's Vice President John Dramani Mahama acknowledged that there is a profit motive involved.
"No country is a charity and people take interest if there is something that they want," Mr Mahama told the BBC.
"Of course, we have to balance their interest against our interest. If we have discovered oil and they want to build houses, then why not?
"There are many countries in the west that have taken an interest (in Ghana) now that we have discovered oil. We need to look at that resource and balance it with our national interest to see what we can get to the benefit of our people," he said.
However, work on the housing project has not yet started. Critics say that underlines Korea's relative inexperience of operating in Africa and perhaps a lack of cooperation on behalf of Ghana.
Officially, though, Korea remains upbeat with the Ministry of Foreign Affairs saying the president believed Africa was "the last growth engine on the globe" and so was "obviously a very important region for the entire world".
African nations want to know whether Korea's offer of friendship will have a bearing on their internal political affairs.
The US and Europe often press African leaders to follow their models of democracy in return for aid or trade.
China, on the other hand, has a policy of non-interference in the political affairs of other nations and is open about its ambitions to obtain African resources.
Korea maintains that its first priority is to help African nations develop their economies.
But it says it also puts "a lot of value" on the concepts of full democracy and human rights.
A government spokesman acknowledged that Korea's aid and investment in Africa was not yet large enough to give it much influence when it comes to promoting a market economy or democracy.
But Korea believes its influence is increasing as a result of the growth of its own economy and its close ties to other powerful Asian nations such as China and Japan.
It expects the G20 meeting to further improve its diplomatic standing and boost its economy.
Simon Maughan from the international investment company MF Global agrees that Korea should benefit from hosting the G20, saying it is a more important forum than the western-dominated G7, or the G8 which includes Russia, both of which he sees as "anachronistic".
But he is sceptical about whether Korea will really be taken seriously as a leader of the developing world.
"By saying they want to take a bridging role, I suppose they are saying they are not taking sides," said Mr Maughan.
"But why do we need a bridge between rich and poor? Why don't we just sit down and have a conversation?"
Related Internet Links
The BBC is not responsible for the content of external sites.