General Motors sees profits surge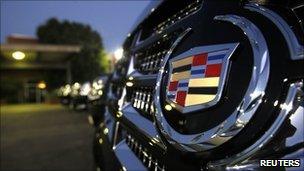 US automotive giant General Motors (GM) has returned to third quarter profitability, fuelled by a rise in sales both in the US and overseas.
The carmaker made a net profit of $2bn (£1.2bn) in the three months to 30 September, compared with a loss a year earlier.
Revenues at the firm, which last week unveiled plans for a $13bn share sale, totalled $34.1bn.
GM's third quarter profit was higher than rival Ford's $1.7bn.
GM has now reported three consecutive profitable financial quarters, as it continues to turn around its fortunes.
Last year, GM needed $50bn in government assistance as it went through bankruptcy protection, and Washington still holds a 60.8% stake.
However, GM has so far repaid the government $9.5bn, and aims to pay back more through a forthcoming share issue.
For its latest quarter, GM made a strong profit in all of its global regions except Europe, where suffered a $559m loss. Its GM Europe business operates the Opel and Vauxhall brands.
GM vice chairman Chris Liddel said the firm was continuing to make "significant progress".
Car industry analyst Jesse Toprak of TrueCar.com said the carmaker was also benefiting from lower manufacturing costs and higher profit margins.
Related Internet Links
The BBC is not responsible for the content of external sites.