General Motors prepares for profitable future
By Jorn Madslien
Business reporter, BBC News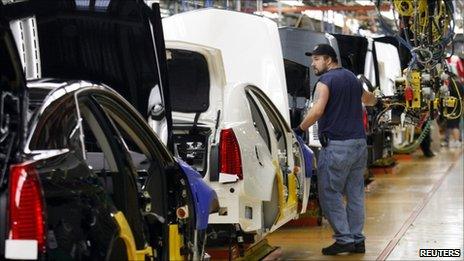 A year-and-a-half after the US automotive giant General Motors (GM) filed for bankruptcy protection, the Cadillac factory in Lansing, Michigan, is still churning out cars.
The Grand River Assembly, which lies about 90 miles west of Detroit, is gearing up production, hiring hundreds of new workers and getting ready to start producing a Cadillac that will be both smaller and much less thirsty than those it used to make.
The model is a powerful symbol of a new beginning for the bruised carmaker after last year's $50bn - £31bn at current exchange rates - bail-out by the US taxpayer.
But symbolism will not do for GM's new chief executive Dan Akerson, a former telecoms executive and naval officer known for his keen, at times even combative, focus on figures.
They are beginning to look impressive. GM made $2bn net profits during the July to September quarter, a dramatic turnaround from a near-$1bn loss during the same period a year earlier.
"The results of the third quarter clearly point to the amount of progress that GM has made," says Mr Akerson, who also has a background in private equity investment.
With sales remaining strong during the last three months of the year, GM expects to make a profit for the year as a whole.
"Although we're a different company, it's worth noting that last time GM reported a profitable year was 1994," Mr Akerson says.
With Mr Akerson at the helm, GM is getting ready for the second leg of a long and painful journey.
The first, which was run by his predecessors Fritz Henderson and Ed Whitacre, was all about pushing through a harsh restructuring, all under the watchful eye of a board of directors representing the US government's 61% stake in the group.
The second phase of GM's revival is about to start as the government and its co-owners - the Canadian government and the union - get ready to pass majority control of the company back to private investors.
And it is clear that this phase will have to be product-led.
In recent years, the quality of many of the models made by GM has fallen short of the quality products delivered by many of its rivals, and so the company reputation has suffered a great deal.
Mr Akerson is eager to fix that.
He knows well that building quality cars can be costly, so this year GM has spent close to $5bn on capital expenditure.
Next year, and in the years ahead, Mr Akerson is expected to spend even more - and he is eager to pass on the message.
"We've just started doing a better job in marketing our brands to consumers," he says.
But making better cars will not be enough without further changes to GM's corporate culture, as well as a bolstering of morale in a company that has seen tens of thousands of jobs go in a matter of months.
Improved financial risk management is also vital, according to Mr Akerson, who has been pushing for closer monitoring of what profit margins different units within the firm deliver, as well as for a more deliberate approach to currency risk.
And of course, Mr Akerson says, "we continue to be vigilant in reducing cost".
But the biggest challenge will be to rebuild relations with both customers and government officials, workers and dealers, across the pond.
This is particularly important in Germany, the largest car market in Europe, where deep wounds were inflicted last year during lengthy talks with both the unions and the government.
Mr Akerson is fully aware of what needs to be done. "We know we have much work to do. We still have to fix Europe," he says.
Private investors, preparing to buy GM shares, will hope he also knows how to do it.
Related Internet Links
The BBC is not responsible for the content of external sites.