Babcock's Lord Hesketh resigns amid carrier row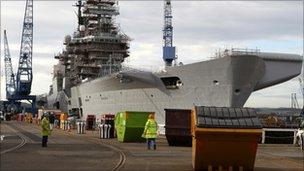 The deputy chairman of Babcock, Lord Hesketh, has resigned after he called the Royal Navy's aircraft carrier programme a "disaster".
His resignation from the engineering group follows a report in the Daily Telegraph newspaper in which he was reported as saying the project would make the country a "laughing stock".
Babcock is building the carriers at its shipyard in Rosyth.
Earlier on Monday it issued a statement distancing itself from the report.
Last month's defence review revealed that £5.2bn would be spent on two new carriers
For three years there will be only one aircraft carrier, in any case, the planes being built for the vessels will not be ready until 2020.
Lord Hesketh's resignation takes place with immediate effect.
He has been non-executive deputy chairman of Babcock since 1996 and a non-executive director since 1993.
Mike Turner, chairman of Babcock, said in a company statement: "Lord Hesketh has been a long-standing and valued member of the Babcock Board, and over this period has made a significant contribution to the development of the Group. We thank him for his contribution and wish him well."