Microsoft boss Steve Ballmer in sale of shares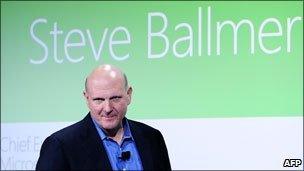 Microsoft chief executive Steve Ballmer has sold $1.3bn (£800m) worth of shares in the firm, the first time he has sold its stock in seven years.
"Even though this is a personal financial matter, I want to be clear about this to avoid any confusion," Mr Ballmer said in a statement.
Mr Ballmer said he was "fully committed to Microsoft and its success".
According to SEC filings he sold 49.3 million Microsoft shares at prices between $26 and $28 per share.
Mr Ballmer still holds 359 million shares, worth $9.6bn at Microsoft's current share price, which closed down 1.36% at $26.77 in US trading on Friday.
He said the sale of shares was made to diversify his investments and help his year-end tax planning.
His statement, published on Microsoft's website, also says that he hopes to "sell up to 75 million shares by year-end".
Microsoft's share price has been hit this year as investors worry about its ability to adapt to new ways of computing.
However, last month the firm announced a 51% rise in first-quarter profit, thanks to higher sales of its flagship Windows and Office software.
Related Internet Links
The BBC is not responsible for the content of external sites.