Russia's bid to stop kickbacks worth $33bn a year
By Konstantin Rozhnov
Business reporter, BBC News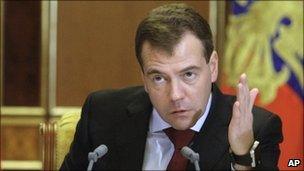 The official announcement that Russia is losing up to 1 trillion roubles (£20bn, $33bn) each year due to corruption and ineffectiveness in its state purchases system came as a big surprise for many.
Not that corruption in Russia has been much of a secret: the anti-corruption campaign group Transparency International ranks it 154th out of 178 states, along with Laos and Cambodia, in its Corruption Perceptions Index.
But the 1 trillion roubles figure, which significantly exceeds previous official estimates, is huge even for such a big economy as Russia.
It amounts to 20% of Russia's budget for state and local procurement, or more than 10% of the state budget's income for 2010.
"Gigantic sums of money are being pocketed by officials and dishonest businessmen," Russian President Dmitry Medvedev said last week.
"Deal with them and put them in prison - there is no other way out."
But experts warn that imprisonment alone is not the answer, as the whole system of state purchases in Russia needs to be changed.
One of the main problems is a significant overlap between corruption and ineffectiveness, which makes it really difficult to prove fraudulent intent.
In the January-October period, Russian prosecutors established 26,000 instances when laws were broken, which resulted in some 100 criminal cases being registered and 7,700 officials reprimanded.
But it seems like a drop in the ocean in comparison with more than 10 million procurement contracts awarded in Russia to some 260 contractors and suppliers every year.
"We need to get rid of the 'white noise' of ineffectiveness to be able to fight corruption," says Irina Kuznetsova, head of the Institute for State and Local Procurement Management at Moscow's Higher School of Economics.
In order to do that, existing laws that regulate state purchases need to be changed, experts believe.
"They are clearly not working if it is possible to steal or mismanage 1 trillion roubles," says Ms Kuznetsova.
Andrei Khramkin, head of the Government Procurement Institute at the Russian Academy of Public Administration, gives an example of his state academy's purchases to illustrate that existing laws do not help increase effectiveness.
He says that if a contract was signed to buy new computers for the academy, the cost of purchase is fixed and the academy would not be allowed to pay a discounted price if some time into the contract the supplier is ready to offer it.
Konstantin Chuychenko, head of the presidential administration's monitoring directorate, named organising the monitoring of state purchase prices and conducting the analysis of the contracts' results among the main priorities.
In order to clean up procurement practices, the government wants to create a federal contact system, with the aim of uncovering dubious purchases in time and establishing a legal base for the evaluation of these contracts.
"No ordering customer fully understands how budget money is spent on state orders," Mr Chuychenko told the Russian president last week.
Ms Kuznetsova points out that it is not enough for the government to know that the situation in its tenders system is bad.
The state needs to learn how to manage the system in a competent way, she argues.
"We have [procurement] data, but we do not have mechanisms to analyse it properly, to understand the available and transparent information," she says.
Mr Khramkin says that implementing the new system is a huge and difficult task, which will require years to complete.
"It is a strategic move, but not a tactical, short-term one," he believes.
The Russian government might want to use the experience of other countries in tackling the procurement system problems, as they are far from being Russia specific.
However, the decisive factor is whether the state and local governments have enough political will to improve the situation.
"The situation has started changing in the past two-three years," says Mr Khramkin.
Experts say that very first positive signals from the anti-corruption battlefield have already been sent, noticing that much more needs to be done.
Related Internet Links
The BBC is not responsible for the content of external sites.