Next warns of clothes price rises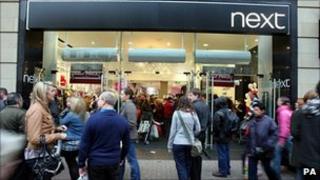 Next has said clothes prices are likely to rise by nearly 8% early next year because of higher cotton costs.
The retailer said there appeared to be a "speculative bubble" in cotton prices, and the length of this would be a key influence on future prices.
Next said like-for-like sales at its High Street stores fell 3.3% in the three months to 30 October.
However, this was offset by a 7.9% rise in sales at its Next Directory, and overall sales at the group rose 2.2%.
Next added that it was sticking with a profits estimate of between £535m and £560m for the full year.
"As a result of further rises in the price of cotton, retail price rises are likely to be at the top end of our previously stated 5% to 8% range for the first quarter of next year," Next said.
"The longevity of what appears to be a speculative bubble in cotton prices will be critical in determining prices for the second quarter."