Dell reaches for the clouds with Boomi deal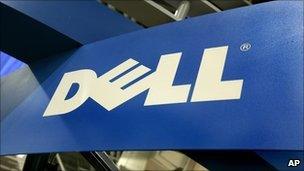 Computer giant Dell has announced a deal to buy cloud-computing company Boomi for an undisclosed price.
Dell has been looking to acquire cloud computing technology, which allows users to access files or services remotely over the internet, rather than just from their own local servers.
It recently lost a bidding war with Hewlett-Packard for cloud firm 3Par, despite being the preferred bidder.
Dell is the world's third largest computer maker.
It said the deal for Pennsylvania-based Boomi would "help businesses reap the full benefits of cloud computing".
"Twenty-six years ago we helped accelerate the move to client-server computing," said Steve Felice, president of Dell's consumer and small and medium-sized businesses division.
"Today we'll help drive a similar transformation with customers turning to the cloud to drive costs down and innovation up."
Cloud computing can allow businesses to cut data storage costs by delivering software, data storage and other services to customers via the internet.
Many large computer makers are looking to buy into the technology.
Related Internet Links
The BBC is not responsible for the content of external sites.