GM seeks to raise $13bn from share offering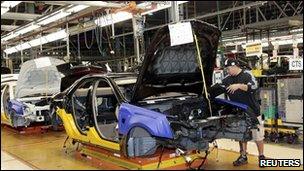 US car giant General Motors (GM) has released the details of a share offering it hopes will raise around $13bn (£8bn) as it looks to break free from government control.
It said it would sell 365 million shares at an estimated price range of between $26 and $29 a share, as well as 60 million preference shares at $50.
It also said it expected a net profit of $1.9bn-$2.1bn for the third quarter.
GM is currently a private company controlled by the US Treasury.
The full details of GM's financial results for July to September will be published on 10 November.
Ahead of the results, the carmaker said it expects revenue for the period to come in at $34bn.
"We are extremely pleased with the level of progress the company is making," said Chris Liddell, GM's chief financial officer.
"We will deliver a solid and profitable first year post-bankruptcy, and we are continuing to improve our balance sheet and, most importantly, the quality of our vehicles."
The US government took control of GM in July last year as part of a rescue of the company that was forced into bankruptcy protection after sales plummeted during the global downturn.
The American taxpayer has pumped $50bn into the company to keep it from going under.
The share offering would value the company at more than $46bn - a similar value to rival carmaker Ford, analysts said.
But, according to experts, the share price would have to rise beyond $50 a share for the government to break even on its investment.
GM's fortunes have improved in part due to large-scale restructuring, including the closure of factories and a drastic reduction in the number of dealerships, which has helped to reduce costs.
Sales of American cars are also picking up again. As a result, in May this year GM made a profit for the first time in three years.
Related Internet Links
The BBC is not responsible for the content of external sites.