Lloyds gives upbeat forecast for full-year results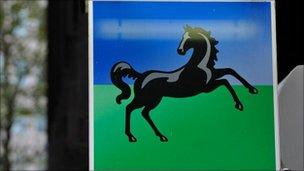 Lloyds Banking Group says it remains on target to deliver a "good financial performance" for 2010.
The bank, which is 41%-owned by the UK government, also said it had accelerated repayment of the funds that were given to it by the Bank of England during the global financial crisis.
Lloyds, which returned to profit during the first half of the year, added that its lending to firms so far in 2010 now totalled £35bn.
It said mortgage demand remained weak.
Lloyds added that its new mortgage lending continued to be focused on first-time buyers, and that so far this year it had helped more than 35,000 people buy their first home.
It also said it was continuing to cut costs as it further integrated Halifax Bank of Scotland (HBOS) into its core business.
Lloyds chief executive Eric Daniels said: "I am pleased to report that we had a good third quarter in our core business as we continue to deliver against the group guidance that we provided at the interims."
Lloyds needed emergency funding from the government in October 2008, at the height of the global financial crisis.
It subsequently needed more financial support from the government following the completion of its deal to buy troubled HBOS in January 2009.
In August it reported that it had made a pre-tax profit of £3.95bn during the first half of 2010, up 44% on a year earlier.
BBC business editor Robert Peston said it was "remarkable" how quickly Lloyds had been able to return to profitability following its woes of 2008 and early 2009.
He added that Lloyds' reconstruction had involved a major reduction in its balance sheet, which meant it was lending and investing less.
Our business editor said: "On what it does lend, Lloyds, owner of the Halifax, is enjoying higher returns, a widening in the gap between what it charges for loans - especially mortgages - and what it pays for funds."
Lloyds added in its trading update that it would not need to raise more capital to meet new rules on the level of funds global banks need to keep in reserve.
It is the first of the UK's major banks to issue a trading statement for the third quarter of 2010. Royal Bank of Scotland and HSBC are due to follow on Friday, and Barclays next week.
Related Internet Links
The BBC is not responsible for the content of external sites.