Ambac poised for bankruptcy protection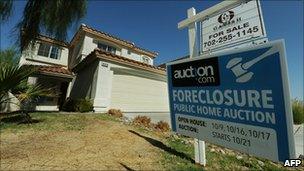 US bond insurer Ambac has said it may be forced to file for bankruptcy protection before the end of the year after failing to make an interest payment due on Monday.
The company said it had been unable to raise the capital needed to avoid bankruptcy protection.
Ambac shares in New York closed down 50% as a result of the announcement.
The company has struggled for the past two years as a result of the collapse of the US housing market.
It was forced to pay out huge sums on bonds linked to mortgages that defaulted during the downturn.
The company's debts currently total $1.6bn (£1bn).
It said discussions with "senior debt holders" to restructure its debt through a pre-packaged bankruptcy were ongoing, but there was no guarantee that an agreement would be reached.
If the discussions do prove unsuccessful, then the company would file for Chapter 11 bankruptcy protection "prior to the end of the year", it said.
Analysts said they were not surprised that Ambac was heading for bankruptcy.
"Ambac has been a corpse for some time," said Matt Fabian at research firm Municipal Market Advisors.
"With the credit crisis ongoing and getting worse, it will make any kind of bankruptcy restructuring more difficult and painful for creditors."
Related Internet Links
The BBC is not responsible for the content of external sites.