AIG raises $37bn to repay bailout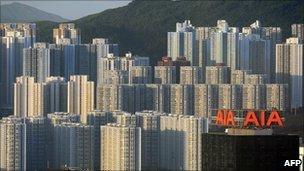 AIG, the US insurer bailed out by the US government at the height of the credit crisis, has raised almost $37bn (£23bn) to repay its $100bn debt.
It raised $20.51 bn by floating AIA on the Hong Kong stock market.
British insurer Prudential was on the verge of buying AIA for $35.5bn earlier this year, but backed away after shareholder opposition.
AIA's stock market value rose to $35.7bn last week, shortly after its shares were listed in Hong Kong.
AIG also announced it had sold American Life Insurance Co (Alico) to insurance company MetLife for $16.2bn.
In March, Tidjane Thiam, the then recently-appointed chief executive of the Pru, said the company planned to buy AIA for $35.5bn, and raise $21bn through a rights issue to fund the deal.
The Pru wanted greater exposure to fast-growing economies, and AIA operates in 15 different markets in Asia.
However, after pressure from shareholders, the Pru then cut its offer price to $30.5bn, which was turned down by AIG.
The American insurer, rescued by the US government as it was deemed "too big to fail", will repay part of the aid it received from the government during the financial crisis with the cash raised through the two deals.
It will use the $9bn in MetLife shares it received as part of the Alico deal to pay back more of the debt later.
In 2008, around the time Lehman Brothers collapsed, AIG teetered on the verge of disaster as its credit ratings were downgraded.
Instead of focusing on its key insurance and property businesses, AIG had dabbled in complicated derivatives and securities.
It was rescued by the government because it was linked to hundreds of financial institutions throughout the world, and might have brought down other companies with it if it had been allowed to collapse.
The US government rescued it with a bailout package enabling it to tap as much as $180bn in aid, in return for an 80% stake in the company.
The US Treasury plans to sell off this stake over time.
Robert Benmosche, chief executive of AIG, said: "We promised the American taxpayers we would repay them and the initial public offering of AIA last week and the completion of the Alico transaction move us closer to delivering on our promise."
Related Internet Links
The BBC is not responsible for the content of external sites.