BG Group approves biggest ever investment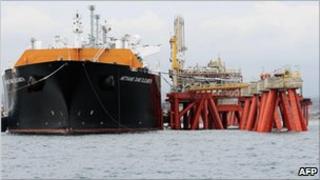 BG Group has approved its biggest investment so far, a £9.3bn ($15bn) liquefied natural gas (LNG) development in north east Australia.
The project will involve building a 540km pipeline to transport coal seam gas from where it will be extracted to its processing plant.
BG said on Sunday that the investment was a "milestone" in its expansion.
The UK company's decision comes after the Australian government gave environmental approvals last week.
The Queensland Curtis Liquefied Natural Gas project will be the first plant in the world to convert coal seam gas into LNG.
The intention is to produce 8.5 million tonnes of LNG annually - the equivalent to about 10% of all of the gas used in the UK each year.
The LNG - gas cooled to a liquid to aid transportation - will mainly be sold in Asia, with the first exports planned for 2014.
BG already has customers in China, Japan, Singapore and Chile lined up to buy the LNG.
The final clearance for the project comes after almost three years of regulatory and public hearings to assess the environmental impact.
Coal seam gas is the natural gas that occurs when coal is formed deep underground. It becomes trapped in coal seams by water pressure.
It is extracted through wells and processed to remove the water, before being piped to a compression plant where it is converted in LNG for transportation around the world.
5,000 jobs
Frank Chapman, chief executive of BG Group, said in a statement: "Today... we are announcing our decision to develop the world's first LNG plant to be supplied by coal seam gas and the foundation project at the centre of a major new Australian export industry.
"Today's sanction is also a significant milestone on the road to delivery of the group's growth agenda over the decade ahead."
The Australian government welcomed BG's decision, saying that the project would create 5,000 jobs during construction and 1,000 permanent positions.