NFL touches down for more UK business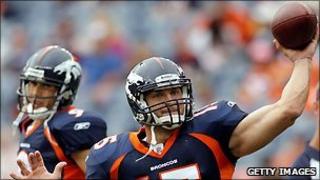 The sporting behemoth that is the NFL has rolled into the UK to stage its fourth regular season game in London.
The San Francisco 49ers and Denver Broncos clash in Sunday's NFL game at Wembley Stadium, as the US sport looks to win converts and commercial expansion in Europe.
A crowd of approximately 85,000 is expected at the game at the spiritual home of English football.
And unlike the recent friendly NBA basketball game, this is a full-season fixture, with the 49ers giving up home advance for the game which will contribute towards both teams' final placings.
'Popularity rising'
Many of those fans will be Americans based in Europe, but NFL Commissioner Roger Goodell says many of those there will be fans of the game from across Europe attending.
"It is clear from the experience we have had in the UK that each year, our popularity continues to rise," says Mr Goodell, who took over at the NFL four years ago.
"Bringing a regular season game has had a great impact - I think it has been a tremendous success for us."
He adds: "It makes us think we should grow the series, not only in the UK, but across Europe."
'Casual' or 'avid'
The NFL distinguishes between "casual" and "avid" supporters, and he says holding a full-season game in the UK capital has helped moved European fans from the first to latter category.
And that, he hopes, will lead to commercial success, with more purchases of NFL product, and also increased engagement with NFL media products.
In the UK, the NFL has a full-time staff of 10, and has deployed cheerleaders and 32-year-old supermodel Marisa Miller to boost the London game.
"We hope to continue that growth," he says, adding that "if possible, that could lead to a franchise in the UK."
And he says that as part of its UK growth strategy and road to a possible franchise, the NFL has looked at whether it should first stage more regular season games in the capital.
"The next step is multiple games," he says, speaking at the Economist Global Sport Summit in London.
"The first thing we want to do is make sure we could do it successfully, not only for us, but for the clubs."
Player negotiations
The 51-year-old says that when looking to take games out of the US, there are a number of factors to consider.
First is ensuring that "a competitive element" is kept in overseas games.
And the mood and opinion of fans in the US also has to be taken into account, as games are potentially being taken away from the NFL's core audience there.
After much consideration, Mr Goodell says the NFL has, for now, decided against playing more games in London.
At present, the league's priority is to concentrate on formulating a new collective agreement with NFL players.
And unless agreement can be reached, the threat of a potential lockout next season remains an issue more pressing for the commissioner just now.
'Successful foundations'
As well as in the UK, the NFL is also playing regular season games in Canada and Mexico.
"We are building off of successful foundations here," he says referring to the London game.
"We are using technology to reach more of our fans and are using in other parts of the world the same strategy we are using here [in the UK].
Meanwhile, NFL American Football is the most lucrative and most watched sport in the US.
And Mr Goodell remains bullish about the NFL's prospects at home, despite uncertainty about the US economy.
"Obviously it is our biggest market," says Mr Goodell.
"It [the economic situation] is challenging, but also an opportunity - we have got to focus our strategy."
One way of gauging a potential fall in fans paying at the gate is through the number of TV blackouts of games, imposed when matches fail to sell out.
And there will be at least two local TV blackouts among the NFL's 13 games this weekend, in San Diego and Detroit.
NFL regulations say teams need to sell out their stadiums 72 hours prior to kick-off for the game to be shown on local TV.
The blackouts bring the NFL's total for the season to 12.
'Quality product'
Meanwhile, Mr Goodell, son of the late US Senator Charles Goodell, remains focused on what needs to be done to achieve success in the US or Europe.
A European American Football league was folded a few years ago after it became too-heavily German based.
"We have to focus on the quality of everything we do," says Mr Goodell.
"We have to make the best quality product available - that is, regular-season games.
"We have to think long-term, we can't make short-term decisions, but that does not mean that you do not push on with initiatives. "